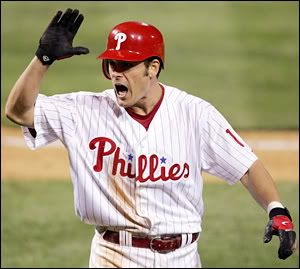 I'm not usually too keen on tipping my cap to players not wearing Mets uniforms, but this could not be overlooked.
In an incident that was sort of forgotten in the Mets doubleheader sweep of the Marlins two days ago, Marlins third baseman Greg Dobbs did something that transcends the sport.
In the ninth inning of the first, game Dobbs ripped a line drive into the first few rows along the first base line. The ball struck a child straight in the face.
The child was bleeding profusely and was hospitalized. The boy suffered a deep laceration, but there were no life threatening injuries.
Before being rushed to the hospital, the boy was showered with baseball souvenirs, including a jersey from Justin Turner and a game-used bat from Dobbs.
However, Dobbs caring for the boy's well-being didn't stop there.
Dobbs actually visited the hospital to check on the boy and talk with his parents. He gave the mom his number so she could give him updates throughout the night.
Dobbs also admittedly prayed for the boy's health that night and wished him well.
Of course, hitting the ball into the stands is always a complete accident, and players hope that it avoids hitting anyone, especially children. But unfortunately, accidents do happen.
It was the way Dobbs handled this accident that showed there are more important things than baseball sometimes.
Good for you Dobbs and hopefully that boy winds up OK!