We want to welcome Peter Shapiro to the Mets Merized Online staff. Most of you know Pete from the comment threads and the many Mets Minor League posts he's submitted via our Fan Shots. Glad to have on the team, Pete! – Joe D.
Usually at this time of year, the stretch run, is prime time for the Cyclones, who in past seasons, were on cruise control and observing the rest of the McNamara Division of the NY Penn League, from their rearview mirror. Not so this year, as the Clones find themselves 28-23, and mired in 2nd place in the division, 6.5 games behind the evil Staten Island Yankees. The NY Penn is a short season league, whose season extends from the middle of June to the first week of Sept, so the season is now entering it's final month. To win a division crown will be very difficult, but there is a chance at a wild card, as the Cyclones find themselves in a battle with at least three other teams, and possibly five. Currently they sit tied for third with Jamestown, 2.0 games behind Mahoning Valley and 1.0 game behind Williamsport, in the wildcard. The odds are long, but a strong stretch run could sneak them into the first round of the playoffs. The big story for the Cyclones so far in 2011, have been all about individual performances. Let's take a closer look at who's been hot…..
Hitting
As a team the Clones are first in the league in walks, and second in the league in HR's. They are third in the league in OBP, BA, SLG and OPS. There have been three stunning hitting performances at Brooklyn thus far, two rookies, and one veteran.
Travis Taijeron (pronounced Tyrone) OF – this 6'2″ 200 lb RH slugger is the Mets 2011 18th round draft pick out of Cal Poly Pomona. He is off to a torrid start in his first professional season, leading the league in SLG and OPS, he is 3rd in the league in RBI's and tied for third in HR's. Here's his complete line: In 149 AB's, he has 19 runs, 45 hits, .302 BA, 10 2B, 4 3B, 7 HR's, and 33 RBI's. 19 walks and 39 strikeouts, give him an OBP of .401, a SLG of .564, and an OPS of .965. Wow. All this while playing all three OF positions.
Danny Muno SS – Wow. The Mets' 2011 8th round draft pick out of Fresno State, has been lighting the league on fire this season. The nice thing about Muno is that he is a BASEBALL PLAYER. He has a well rounded game and so far has been doing just about everything. He has been batting lead-off for the Cyclones, and happens to be also leading the league in OBP at a staggering .450 clip! He is also third in the league in hitting at .338, and is second in the league, behind teammate Taijeron, in OPS at .950.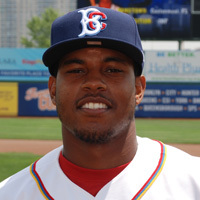 Richard Lucas 3B – Many wrote Lucas off last year as dead in the water after he posted a .212 avg in 434 AB's at single A St Lucie. What a difference a year makes! The 6'1, 205 lb Lucas, the Mets 4th round draft pick in 2007, out of Wolfson High School in Jacksonville, Fla., has been terrorizing NYP pitching this season. He is tied for first in the NYP in runs scored, 4th in the league in hits and total bases. 5th in the league in batting average and SLG, and sixth in the league in OBP and OPS. Here are his numbers in 171 AB's, 36 runs, 55 hits, .322 BA, 14 2B, 1 3B, 5 HR's, and 25 RBI's. 24 walks and 44 strikeouts and his OBP is .410 with a .503 SLG for an OPS of .913.
Four players have contributed to the Cyclones offense with regularity this season:
Javier Rodriguez OF – Development has been slow for the 2008 2nd round draft pick out of high school in Puerto Rico. He has been manning the corner OF spots at brooklyn and is playing reasonably well although it's time to start seeing something more out of this guy to keep him from hanging a "bust" label around his neck. His line so far this year: 181 AB's, 28 runs, 45 hits, .249 BA, 16 2B, 1 3B, 4 HR's, 30 RBI's, and an OPS of .757.
Brian Harrison 1B/3B/OF – 6'2″ 180 lb, the Mets' 2010 13th round draft pick out of Furman University, can still put up some numbers this year if he starts to hit with some consistency. In 159 AB's he's hitting .264 with 2 HR's and 26 RBI's.
Brandon Brown 2B/SS – The Mets took Brown in the 22nd round of the 2010 draft, out of the University of South Alabama. Brown is putting together a consistent season with the bat, and showing a little pop too. In 104 AB's, he is currently hitting .308 with 5 HR's, 10 RBI's and an OPS of .828.
Charlie Thurber OF – The 6'4″ lefty swinger out of Tennessee was the Mets 2011 39th round draft pick. In 142 AB's he is hitting .282 with an OPS of .688.
Pitching
The Cyclones pitching staff is first in the league in fewest walks given up, third in the league in ERA, and fourth in WHIP. One player is in a tie for first in the league in strikeouts, and his name is…..
Eduardo Aldama RHP – This 6'1″ righty from Venezuela was signed by the Mets as an IFA in July of 2006. In 10 GS this year he is 2-3 with an ERA of 4.50. In 46 IP he has given up 44 hits and 22 walks while striking out 52. The league is hitting .253 against the 21 year old.
Carlos Vasquez LHP – The diminutive southpaw from Mexico was signed as an IFA in July 2008. In 10 starts, he has a record of 2-2 and a 3.45 ERA. In 47 IP he has surrendered 51 hits (only 3 HR's) and 11 walks while striking out 38.
Jeff Walters RHP – The 2010 7th round draft choice has what you call a "live" arm. The only thing for him to find at this point is fastball command. If and when he finds it, will determine the next step for the 6'3″ 170 pounder out of the University of Georgia. Inconsistency has been the catchphrase to describe Walters this year as he has gone 2-5 in 10 GS over 45 IP. He has been touched for 40 hits, while walking 16 and striking out 33. The positives are that he has only given up 3 HR's and opponents are hitting a measly .237 off him.
Marcos Camarena RHP – This 6'3″ righty from Mexico was signed as an IFA in Sept. 2007. In his 9 GS this year he has gotten very little run support which would explain his record of 1-3 and ERA of 3.86. But the Mets love his power arm.
Chris Hilliard LHP – made 5 starts early on for the Clones but for some reason he has not appeared in a game in nearly a month, despite being listed as "active". He was originally taken by the Mets in the 38th round of the 2008 draft out of Itawamba Community College. In the five starts he made this year for Brooklyn he went 3-1 with an ERA of 3.60. He was replaced in the rotation for four starts by 2011 27th round pick out of South Florida……
Randy Fontanez RHP – Despite being the closer at South Florida this past year, Cyclones manager Rich Donnelly has been trying Fontanez in the rotation. In 7 games and 4 GS Fontanez is 0-1 with a 2.20 ERA.
Just added to the rotation for the stretch run is 2010 12th round draft pick out of Minnesota State University-Mankato, Bret Mitchell. The 6'2″ righty has made one start since being called up from Kingsport and gave up only 1 ER in 4.2 IP.
Cory Mazzoni RHP – The 2011 2nd round draft pick had a cup of coffee with Brooklyn, logging 6 quick innings before being shipped off to St Lucie, high A, last week.
Tyson Seng RHP – The 2011 33rd round draft pick out of Oklahoma, has been one of the Clones' two best relievers in 2011. In 16 games he is 3-1 with 0.64 ERA. In 28 innings he has 29 strikeouts and 5 walks, while notching 2 saves.
The other is T.J. Chism LHP – The Mets 32nd round pick of the 2009 draft out of La Salle University. In 19 games Chism is 3-0 with a 1.19 ERA. In 23 IP he has given up 16 hits and 7 walks, while striking out 21. He has not allowed a HR and the league is hitting only .190 against him.
Orlando Tovar LHP – The 6'3″ lefty from Venezuela has gone 4-1 out of the pen for the Cyclones this year.
Todd Weldon RHP – the 6'4″ 2010 27th round draft pick out of Wayland Baptist (Texas) University, has chipped in a 3-0 record and a stingy 0.98 ERA.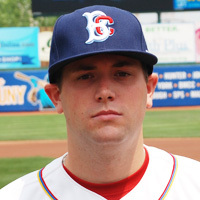 Jack (The Rocket) Leathersich LHP – The 2011 5th round draft pick out of Massachusetts Lowell, has flashed some scintillating stuff in 5 outings this year. In 5 IP, he has given up 2 hits and a walk while striking out 11. Wow.
Can't wait to see…. Tyler Pill RHP – the 2011 3rd round pick out of Cal State Fullerton has only appeared in 2 games so far throwing only 2 IP.
Let's Go Cyclones!
Next Up – Kingsport Mets