All three Mets relievers who are expected to try their hands at replacing Francisco Rodriguez weighed in on the situation on Thursday.
Here is what each of them had to say about closing.
"If nobody gets an ego, we'll be just fine," said Isringhausen (1-0, 3.14 ERA, 35 games). I don't think any of us will have one. I know I won't. They won't and it will work out just the way Terry wants it to work out. It was what I wanted to do, but I know what my role is. My role is to help young guys mature." 
"I'm ready for it. It's what I want to do," said Parnell (2-1, 2.92 ERA in 23 games). "Whatever happens, happens. If the phone rings and it's my name, I'll be ready. You've got to be prepared and take the pressure and put it on them – opposing hitters. Play the cards however they're dealt."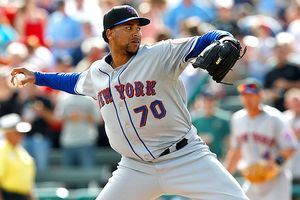 Beato (2-1, 3.38 ERA in 31 games) said, "Closing is something I would love to do. I'd love to. I know it's not the same thing as in Double-A, but it's a role I'd love to do. I did it last year and I fell in love with it. It's something I'd like to see myself do."
All three seem to be up for the task, but this is New York where talk is cheap and athletes frequently choke on their words. Beginning tonight they all will get the chance to make their actions speak louder than their words. I wish all three of them success.