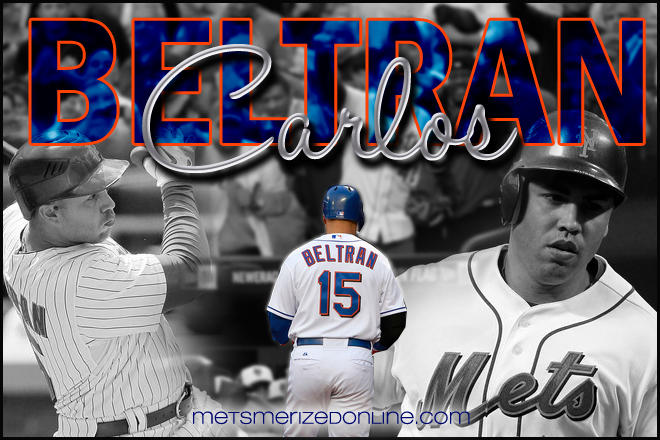 Carlos Beltran's long, and historic tenure with the Mets came to an end today, as the Mets traded the outfielder (along with cash considerations) to the San Francisco Giants for top pitching prospect Zach Wheeler (pending approval from MLB). 
As we here at MMO celebrate Carlos Beltran with "Beltran Appreciation Week", we've written about his greatest accomplishments, achievements, and anything in particular.  Heck, we even replaced Mike Piazza with Carlos Beltran on our MMO banner this week.  Shocking isn't it? 
Now that Beltran has been traded (and we know who the Mets are getting back in the deal), several MMO writers have given their reactions to the trade.

Xtreemicon:  I'm sad to see him go.  He was easily the most underrated player in Mets history.  He had some great moments as a Met and carried himself in a most dignified manner.  Baseball is a business, and from a business standpoint, he had to go.  I credit Sandy Alderson for getting a top prospect in return and I hope the door stays open for Beltran to re-sign.  I will miss him and everything he brought to the Mets not only on the field, but as a representative and ambassador of the team off the field. 
Brandon Butler: Sandy Alderson made one of the best deals the Mets have made in the past 10 years.  The Mets got a top rated pitching prospect for the future, and the Giants got a 2-month rental player.  I certainly wasn't expecting the Mets to get a top prospect from the Beltran trade, but they always find ways to surprise me.  Even though the Mets didn't get Gary Brown or Brandon Belt, Zach Wheeler is just as good as those two guys and I am extremely happy.  I will miss Carlos Beltran's bat in the Mets lineup.  I will always remember the game on August 22nd, 2006 when Beltran and Carlos Delgado hit HR's (Delgado's was his 400th career HR) to win against the Cardinals. That was my favorite Carlos Beltran moment.  So all in all, I am extremely happy with the deal, but at the same time i will miss Carlos Beltran deeply. 
Dan Valis:  Beltran's departure really signifies that there is a changing of the guard.  It saddens me to see him go after he was here for so long and played so well for us.  He was a trooper as he played through nagging injuries, and when healthy he played at an all-star level.  It's sad that most Mets fans will only associate him with his bat on his shoulders against Wainwright and the Cards.  I will never forget his selfless move to right field and how he took the pressure off new manager Terry Collins, and made the switch with Pagan seamless, showing that he is a real team player.   Now that he is gone, people will finally realize what a gaping hole he has left behind, and how good of an all around player we actually had for the last 7 years. 
Ben Yoel:  Absolute steal. Zack Wheeler will form a nice 1-2 punch with Matt Harvey as early as 2013. Wheeler was always the prospect I wanted most from San Francisco. Relies heavily on his ability to get groundouts, but isn't afraid to throw one past you. This will go down as one of the best trades in New York Mets history. Sandy Alderson and Co. did a phenomenal job holding their ground and insisting on top prospects for the best bat on the market.
Satish Ram:  I hear that the Mets got Wheeler in this deal and I'm pretty happy. I knew that Beltran was going to be traded and the fact that he's a rental player for only half a season with NO compensation picks, so getting Wheeler was an amazing deal. I'm happy for the return, but I'm sad to see him go. I'm going to wait till the full details come in to give kudos to Sandy, but Wheeler alone is a great return. If Sandy can re-sign Beltran somehow, he's a miracle worker.
Dave (Retire 31):  I'm glad that if he had to be traded, he's going to a contender. And he'll be playing in the outfield everyday in San Fran. Mets get Wheeler and maybe more. But that just leaves a lot of holes in the Mets lineup, and a HUGE hole in right field. Goodbye, Carlos Beltran, you will be missed, and we are all hoping you get that ring.
Robert Knapel:  Great trade by the Mets. It was getting hard to believe that they would actually get a top 50 prospect for Beltran. Wheeler has a ton of potential. What a steal by Alderson.
Clayton Collier:  It is sad to see Beltran go, but the Mets are a longshot at best and Alderson can't run his front office based on the hope for a miracle. Wheeler is above and beyond what I ever would have hoped to see as a return for Beltran. We now have a incredible future 1-2 with Wheeler and, Harvey.  Not to mention Niese and Gee as well as Mejia, Familia, etc. Great move by Alderson.
Joe D: I know everyone will see this as big win for the Mets, but it might be years before we will really know how big or how small. Maybe the bigger win would have been Gary Brown instead of Wheeler, we'll see. Wheeler looks like a solid prospect, but he is incredibly raw at this stage of the game and has yet do dominate in Single-A. He has an incredible 10.3 K9 rate, but he walks over 5.2 batters per nine innings so his K/BB is very pedestrian. I'm already reading about the dominating 1-2 punch we may have in a few years with Wheeler and Matt Harvey, but the last time I heard talk like that was with Generation-K and we all know how that turned out. Beltran was gone no matter what, and it's better to have a team's best pitching prospect than their fourth or fifth, so in that respect it's a nice win for the Mets. We may have handed the Giants another World Series with Beltran, but we'll have to wait a few years before we find out what we got in return.