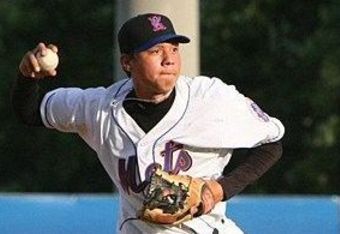 Wilmer Flores might as well be the least talked about top prospect the Mets have had in a while.  He is still very young, and his bat is coming along slowly, but it is coming.  At just 19 years of age, about to turn 20 , he still has plenty of time to develop.  So far this season we have not seen a great batting average, or a ton of power.  But, what we are seeing is a lot of run production.
This is his 4th season in the Mets system, and he is beginning to show the signs of promise that people are waiting to see.  He was signed by the New York Mets as a non-drafted free agent on Aug. 6, 2007.
So far this season Flores has just 6 home runs, which is a little behind his pace from last season when he hit 11.   Last season he hit 36 doubles and drove in 84 runs in 133 games, where as this season he has 62 RBI in 96 games with 18 doubles.  He is only hitting .272, and with the lack of power being displayed by Flores, 62 RBI is pretty good to this point.  I don't think I see him hurdling the 100 RBI mark this year, but with about 40 games left he can definitely surpass his career high of 84.
Coming into this season Flores was the odds on favorite for the top hitting prospect in the Mets system.  As the season has gone along guys like Cory Vaughn and Matt Den Dekker's numbers have been very impressive earning them both mid-season promotions this year.   There is a decent group of hitting prospects to get excited about in the Mets farm system such as Cesar Puello, Aderlin Rodriguez and Jefrey Marte who joined Matt Harvey as members of the futures game this season.
I wouldn't say Wilmer Flores has been a disappointment thus far early in his career because he is so young.  He has not yet turned 20, and still has to grow into his body before he begins to develop the power we are all waiting to see.  But I can't lie and say I wish I was seeing a little more to get excited about.  It always feels as though we are waiting as Mets fans, for once I just want to see a top guy just light it up and force our hand.  Wilmer has about about 40 games left to change that feeling a bit.
To read more of my minor league scouting reports come visit us at BigAppleMetTalk.