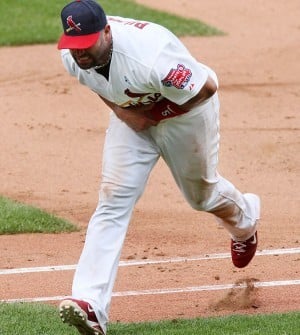 Cardinals first baseman Albert Pujols will miss four to six weeks with a small fracture in his left forearm, an injury that creates a gaping hole in the St. Louis lineup while vastly altering the dynamic of the National League Central race.
The Cardinals announced today that an MRI showed a non-displaced fracture of the left radius and that the All-Star's arm was placed in a splint.
Pujols was injured Sunday in a baseline collision with Kansas City's Wilson Betemit when Pujols came off first base to catch a wide throw from second baseman Pete Kozma. He will be placed on the disabled list and a roster replacement announced before Tuesday's game against Philadelphia. The Cardinals are off today.
Pujols and the Cardinals have been feuding for two years over a contract extension, and the Cards' All Star first baseman becomes a free agent after this season. I'm betting he'll never come close to that original offer he turned down from the Cards last season.
I wonder if Jose Reyes will have a sudden urge to start some sort of negotiations with the Mets sooner rather than later?
I wouldn't be surprised if we hear about a new development in the next two weeks regarding both sides being at the negotiating table (finally). Stay tuned.