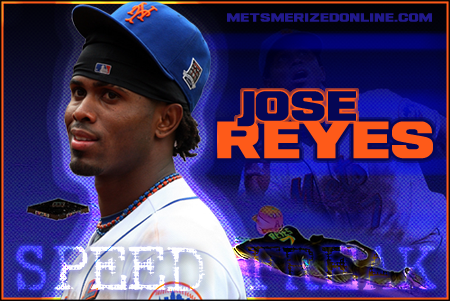 FRIDAY, JUNE 3, 7:00 PM – 10:00 PM
CITI FIELD, FLUSHING, NEW YORK
Today is "Don't Trade Jose Reyes Day" at Citi Field.
What started out as a cool idea by lifelong Mets fan Donna Bauer, has evolved into a big time event that will feature thousands of fans who will be rallying support and sending a message to the Mets front office to keep Jose Reyes a New York Met in 2012 and beyond.
It all began on this Facebook page in early May, and since then it just continued to pick up steam and started to charged the fanbase, most of whom are dead against losing their home grown star who just happens to be in the midst of an MVP caliber season.
Many of the fans who will be attending the game, will be wearing specially designed T-Shirts by The 7 Line. It is a can't miss "Orange and Blue" design that screams the message loud and clear…
Plenty of fans have said they will be bringing banners, signs, posters and whatever else they need to get their point across during the game.
Let us know if you are going to the game, or post here during the game and give us some live feedback!!!