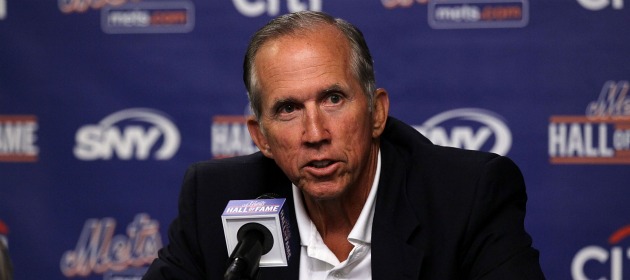 ESPN reports that the Washington Nationals will name Davey Johnson as their new manager, according to a source familiar with the situation.
Johnson, 68, will manage the team for the rest of the season and next season, subject to league approval.
He has been a senior adviser for that ballclub since 2006, and last managed in 2000 with the Los Angeles Dodgers.
I wonder why Johnson was never considered by the Mets when they were interviewing candidates?
It would have been great with the 25 year anniversary of the 1986 Mets this season. I guess the Mets can scratch him off the guest list when they celebrate the anniversary later this season.
Original Post
Nationals manager Jim Riggleman resigned today following today's walk-off win against the Mariners, the second NL East manager to step down this week.
Riggleman was growing increasingly frustrated that the Nationals had not shown any interest in picking up his option for 2012. He was seemingly taking it personally and it was "eating away at him".  
"I'm 58. I'm too old to be disrespected", said Riggleman.
The Nationals are in third place in the NL East with a 38-37 record on the season. There has not been an official interim manager named, though presumably it will be bench coach John McLaren.
Ironically enough, as Gary Cohen mentioned on SNY, Riggleman replaced McLaren as manager in Seattle when McLaren was fired, now it is very likely to be vice-versa with the Nationals.
Riggleman is now the second NL East manger to resign from their role in the past four days. Marlins manager Edwin Rodriguez stepped down Monday and was replaced by 80-year old Jack McKeon.
This recent news is also an accomplishment for Terry Collins 😀 :
[blackbirdpie url="http://twitter.com/#!/BrianCostaWSJ/status/83994880669523968″]