Tonight's the night Mets fans.
Here is the final update to my running list of potential Mets draft selections. To finish things off I added RHP Matt Barnes of UConn who is really moving up the draft board in the last 24 hours.
In about 30 minutes, we will find out who the Mets will select with the 13th overall pick in the 2011 First Year Player Draft. I'm betting it's one of the players listed below.
Good Luck to the Mets tonight!
Matt Barnes, RHP – UConn
Who Likes Him: Keith Law, ESPN
The 20-year-old Barnes pitches with a chip on his shoulder. He's hungry and eager to take his game to the next level as a raw, high-ceiling starting pitcher that will likely be selected in the top 10. He was recently named Louisville Slugger NCAA Division I All-American First Team for going 11-3 with a 1.12 ERA in 15 starts — becoming just the third UConn pitcher to win 10 or more games during a single season. The 6-foot-4, 203-pound Barnes,credits the UConn coaching staff and a handful of other positive influences throughout his young baseball career for helping him to develop a fastball in the 94-95 mph range with solid movement, as well as a sharp curve (78-81 mph) and a strong, biting slider, combined with an evolving changeup. – Houston Chronicle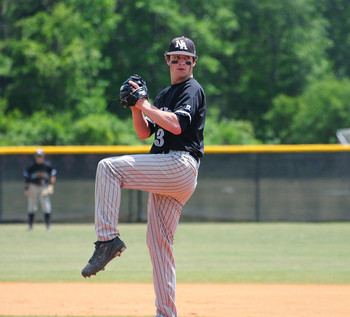 Taylor Guerrieri, RHP – Spring Valley HS
Who Likes Him: Frankie Piliere, Scout.com
Taylor Guerrieri joined Spring Valley for his senior season after transferring from North Augusta, and his high-90s fastball was hard to ignore – and even harder for opponents to hit. With an arsenal of pitches, he also throws a 12-to-6 breaking ball and a changeup. Guerrieri is expected to be selected in the first round of the June 6 Major League Baseball Draft. His big arm and 6-3 frame have potential written all over them. In nine starts, Guerrieri was 6-1 with a 1.10 ERA. He threw 51 innings—with three complete games—and struck out 72, while allowing just 24 hits and walking 23. You can't help but notice those numbers or his athleticism. On top of his pitching prowess, Guerrieri also batted .507 (38-for-75) with nine homers and 34 RBIs. – Ken Bradley, The Sporting News
Taylor Jungmann, RHP – University of Texas
Who Likes Him: Keith Law, ESPN
While there are a couple of college arms that have gotten a bit more buzz as being top-of-the-draft types, there may not be another pitcher in the country who's been more consistently effective than the Texas Longhorns ace. The big right-hander with a Mike Pelfrey-type frame has three plus pitches and shows the ability to maintain his stuff deep into every start. His fastball has been around 91-97 mph, even touching 98 mph, and sits comfortably in the 93-95 mph. His fastball has plus movement as well. His curve, with a hard, tight 11-to-5 break, is also a plus pitch, as is his changeup. While his command is average — he occasionally gets too much of the middle of the plate — he's got outstanding control, throwing strikes and not hurting himself with walks.  – Jonathan Mayo, MLB.com
Francisco Lindor, SS – Montverde Academy
Who Likes Him: Pro Draft Central
Lindor, a high school shortstop in Florida, has the chance to be an impact player on both sides of the ball at a premium position. He'll definitely be able to stay at shortstop with plus defense, showing outstanding range and a strong arm. At the plate, he's gotten stronger and he could grow into enough power to hit 15 or so homers annually, enough to keep pitchers honest, along with hitting .290-.300 every year. While he's a solid average runner, he could be a potential leadoff hitter in the future, thanks to his strike-zone knowledge and willingness to take a walk to go along with his ability to swing the bat from both sides of the plate. Lindor is a high-energy player with good makeup, one who is almost certainly the top high school position player, according to talent, in this Draft class. – Jonathan Mayo, MLB.com
Original Post 6/3
Mikie Mahtook, OF – Louisiana State
Who Likes Him: Jim Callis, Baseball America
Mahtook, a native of Lafayette, La., was a 2011 first-team all-SEC selection, and he completed the regular season as the conference leader in slugging percentage (.709), walks (41), triples (5) and steals (29). He was No. 2 in the SEC in batting average (.383), home runs (14), total bases (139), on-base percentage (.496) and runs scored (61) and No. 3 in the league in RBI (56). His consecutive games reached-base streak is currently at 70 – he reached base safely in all 56 games this season and in the final 14 games of 2010. Mahtook has a .344 lifetime batting average at LSU, and he ranks No. 2 in school career annals in triples with 12 and No. 5 in stolen bases with 60. – LSU
Sonny Gray, RHP – Vanderbilt
Who Likes Him: Jonathan Mayo, MLB.com
Known for his tenacity and athleticism, Gray is one of the better pitchers in the country and among the top prospects for in the draft. He has a lighting quick arm that produces low- to mid-90s fastballs and a quality curveball. Gray is listed at 5-11, 180 pounds – raises concerns about whether he can handle a 200-inning workload. His size often is the first thing scouts talk about when breaking him down. Gray hasn't had any trouble with the results, at least not at the collegiate level. This season, he has a 2.17 ERA in 95 1/3 innings, striking out 105 and walking 38. "If you need to win a game," an American League scouting director said, "you want Sonny Gray pitching for you. He's that kind of guy. – AZ Central
Levi Michael, SS – North Carolina
Who Likes Him: Keith Law, ESPN
Michael, a shortstop playing at the University of North Carolina, jumped into the first-round pick debate after a very impressive sophomore season in 2010. He has then followed it up in 2011 well by batting .313 in 57 starts. He also drew 46 walks compared to striking out just 37 times while leading the team in on-base percentage at .459. – MLB.com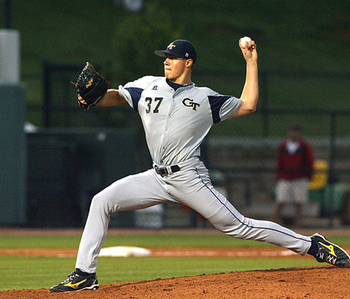 Jed Bradley, LHP – Georgia Tech
Who Likes Him: DraftSheet.com
Georgia Tech left-handed pitcher Jed Bradley is projected by many to go in the top-15 picks of the 2011 MLB draft. After scouting Bradley, I have no qualms about placing him among the better left-handed pitchers I've ever had the opportunity to scout. If I'm an organization looking for a fast moving starting pitcher who could potentially contribute within a year, Bradley would be a fantastic choice. In an odd draft deep in left-handed college pitching, Bradley may wind up being the 3rd to go behind Danny Hultzen and Matt Purke. Just understand the selection is more a product of a strong class as Bradley has the stuff to be the first lefty selected most years. – Mike Newman, Scouting the Sally
George Springer, OF – UConn
Who Likes Him: John Sickels, Minor League Ball
George Springer is one of the top position players available in the 2011 draft and a likely top 5 selection. The UCONN junior is viewed as a five tool talent.  At the plate, Springer has big power and good bat speed.  He pulls the ball with power.  In the field, Springer covers enough ground to remain in center and has a strong enough arm to play right.  Coaches rave about Springer's effort, whether it be running out a ground ball or chasing a fly in center. – MLB Draft Guide