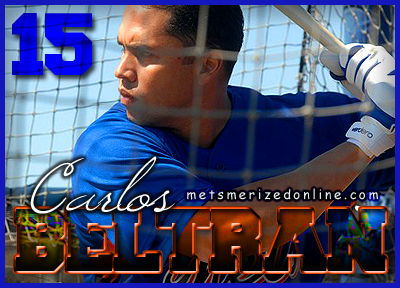 A week ago I wondered about the possibilty of not trading Carlos Beltran, but instead keeping him and trying to work out a 2-year deal. You can read that below.
I wanted to update this post with a comment Terry Collins made when asked about his thoughts on trading Beltran.
"You can't lose the energy, you can't lose the positive, because the players will read into it," Terry Collins said. "And the minute they think, 'Oh gosh, our guys aren't here, the manager has given up,' they'll sense it, and then they'll feel that we won't be any good until everybody comes back. That's not the way you can run this."
What if Wright and Davis are still not back to pick up the slack as Newsday's David Lennon pointed out?
How will that be percieved by the fans and the players?
Original Post 6/13
Last week, Jon Heyman was told the Mets would be willing to eat some of Carlos Beltran's $18.5 million dollar salary if they can get good prospects.
That's been a given ever since the season started so I don't really understand why that should be news to anyone at this point. But being he brought it up, let's toss it around a little bit because quite honestly, I'm not so sure we should just dump Beltran somewhere and move on from him yet.
First let's get put aside that $18.5 million dollar figure because by the time the trade deadline comes, Beltran would have already been paid 60% so actually we're talking about roughly $8 million that will still be owed to him.
As we've mentioned here before, teams cannot offer Beltran arbitration at the end of the season because of a stipulation in his contract. That means no compensation for next June's draft assuming compensation isn't ditched with the new collective bargaining agreement anyway.
So basically, Beltran is a pure two-month rental for any team that want/s him, and at the end of the year he's gone and the new team gets zilch. I don't care how much money the Mets eat, why would any team in their right mind give up good prospects for eight weeks of Beltran even if they really needed his bat?
It sounds like an extreme case of wishful thinking by the Mets if you ask me. If Beltran gets traded, your looking at a possible mid-level prospect or a marginal major leaguer who is still under team control and that's about it. It's still something, and something is always better than nothing. But why not consider the alternative… Keeping Carlos Beltran?
He is by far the most productive outfielder the Mets have and is currently on target to hit 29 home runs and drive in 100 runs while batting .280 and being the only real presence in the Mets lineup.
Who do we have that will replace Carlos Beltran in our system?
The quick and most accurate answer is – absolutely nobody.
Can you imagine this team with Jason Bay protecting David Wright instead of Carlos Beltran? Who can't wait for that disaster to play out?
Plus, for a team that already struggles to hit right-handed pitching can you even imagine taking Beltran's (.288/.385/.450) bat out of the line-up at this stage of the game?
For all the knocks about how soft Carlos Beltran is, the reality of the situation is that he's played more games this season (63) than any other Met on the roster including Jose Reyes.
Has anybody given any consideration to seeing whether Carlos Beltran would be willing to sign a two-year incentive laden deal or extension to stay with the Mets and remain our number three hitter and everyday right fielder? Or is it already a done deal that, Jason Bay, Lucas Duda and Angel Pagan will be the 2012 Mets Opening Day outfield?
Think about that for a second… Try writing out a line-up card with those names in it, and leave off Carlos Beltran and possibly Jose Reyes too… Do you like what you see? Mets all the way in 2012?
At 34-years old, Beltran won't get more than a two-year deal anyway, so if we can lock him in with a base salary of $7-8 million a year, how can you beat that?
We keep hearing so much about how this new front office strategy is all about finding and getting value and I don't know of too many veteran impact players who can give you what Beltran offers for less than $8 million annually.
I was reading something the other day that said when Lucas Duda was re-called, Carlos Beltran took him out for a bite to eat and spent the day with him. He told Duda to simply relax and not put any additional pressure on himself because there are plenty of great players on the team. He told him to just play his game and do what he had been doing in Buffalo. Later that day when Duda came around to score on a base hit, he stepped into the dugout and you could see him and Beltran hugging and sharing a smile and a laugh.
Beltran has also worked with and spent time with Daniel Murphy and Ike Davis in April, and even Justin Turner commented on how Beltran made him feel like part of the team after a 2-hit performance in a 6-4 win in Houston. "I'm excited to be here", Turner said. "I worked hard to get back and now I'm on the field with Carlos Beltran. I'm still letting it all sink in." That's respect.
By re-signing Beltran you accomplish three things…
1. You lowered your payroll by $10 million dollars annually. Even if you keep Beltran at $8 million dollars a season, you've substantially increased your wiggle room and don't have to worry about signing another player for right field.
2. You can still ease Lucas Duda, Fernando Martinez and possibly Kirk Nieuwenhuis into the outfield configuration without having to declare one as an everyday player until they are absolutely ready.  We don't really need anymore Daniel Murphy is the everyday left fielder situations, do we?
3. Who becomes the veteran presence on this team if Beltran leaves? David Wright? <cough, cough> Jason Bay? <cough, cough, cough>
The more I think about this, the stronger I feel about it. I'd rather have Beltran here for one or two more years than trading him for the next Chris Carter. Sorry… Been there, done that.
Beltran is one of the best position players ever to don a Mets uniform and certainly the best center fielder we've ever had. Heck, he's the only Mets player I know that actually talks to his bats. The NY Times calls him the Bat Whisperer.
Whenever he receives a new box of bats, Carlos Beltran takes each bat out, holds it to his ear and raps it, gently but convincingly, with the base of his hand, his head cocked, one eye shut, concentrating like a virtuoso tuning his violin.
Hey, all I'm saying is to pick up the phone and at least check it out. Imagine trading Beltran for a bag of balls, and then seeing him sign a 2-year $15 million dollar deal with the Yankees or Phillies in the offseason. Just the thought of that gives me chills.