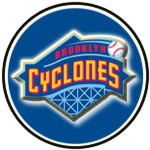 While the big club has played good baseball over the past few weeks, New York Mets Single-A short season affiliate, the Brooklyn Cyclones, open their season this Friday night on the road against the Staten Island Yankees.
The borough of Brooklyn is preparing for another exciting summer of baseball, especially after the Cyclones came up one game short last season for the New York-Penn League Championship title.
The team held its preliminary workouts this week, as several of the new players will be beginning their professional careers in Brooklyn. Still, six Cyclones players from last year will return to this year's team—pitchers Hunter Carnevale, T.J. Chism, Chris Hilliard and Guillaume Leduc; catcher Amauris Valdez; and infielders Jet Butler and Brian Harrison.
Though legendary Met Wally Backman won't be a stalwart this season at Coney Island's MCU Park, the Cyclones will have a plethora of Major league experience manning the dugout.
Rich Donnelly takes the helm as the Cyclones new manager, with Backman being promoted to Binghamton. Donnelly has over 25 years of coaching experience for the Texas Rangers, Milwaukee Brewers and Los Angeles Dodgers. He was an advisor for player development for the Pittsburgh Pirates before being named the Cyclones manager.
Highlighting the offseason coaching acquisitions, former Met Frank Viola takes over as the team's pitching coach. Viola pitched for the Mets for parts of three seasons and is the last Mets pitcher to win 20 games in a season (1990). The lefty hurler, who also attended St. John's University in Queens, will be a valuable resource for the young Cyclones pitching staff.
The final roster is still uncertain, since the Mets have yet to sign all of their draft picks. First-round pick Brandon Nimmo remains unsigned, but the Wyoming outfielder may make his debut this season with the Cyclones. He's likely in for a culture shock playing in Brooklyn.
The 2011 draft picks that will be playing for the Cyclones are the following: Fresno State switch hitting shortstop Daniel Muno; outfielder Jonathan Clark from Lee University in Tennessee; 6'4" outfielder Charley Thurber from the University of Tennessee who was born in Elmira, NY; and outfielder Travis Taijeron from Cal Poly Pomona.
Though there will be some new faces, the same hard-nosed style of baseball will be played this season.
Who on this year's squad will be the next Cory Vaughn, Darrell Ceciliani or Rylan Sandoval?
Head to MCU Park to find out!