I came across a post by John Schweibacher of WFAN who reminded me that tonight marks the the 15th season of interleague play. Where do all the years go?
Believe it or not, the Mets were a franchise-best 13-5 in interleague play last year, not bad considering how the season played out. It was the most wins they've ever racked up against the AL beating their previous high of 12 wins in 1999.
Of course going back to Yankee Stadium comes with that recent awful memory of Luis Castillo dropping that popup, but there have been many great memories too, and none better than the night the Mets and Yankees met for the very first time in interleague play.
The Mets took the opener thanks to Dave Mlicki who shut out the Yanks, 6-0, scattering nine hits, walking two and striking out eight. At the time Mets fans bemoaned the fact that manager Bobby Valentine didn't alter his pitching rotation to have Mets' ace Bobby Jones, who was 11 and 3 with a 2.49 ERA, face Joe Torre's defending World Champions instead of Mlicki who was just 2 and 5 with a 4.70 ERA coming into the start.
Yes, they can never take that one away from us.
"I knew it was a big game when I did it and it's amazing that it's meant so much to so many people," says Mlicki, a "total underdog" in the game. "I remember the day after, my wife (Annie) and I were out to breakfast at a diner and people were talking about the game and no one had any idea I was sitting there. It's what people want to talk about."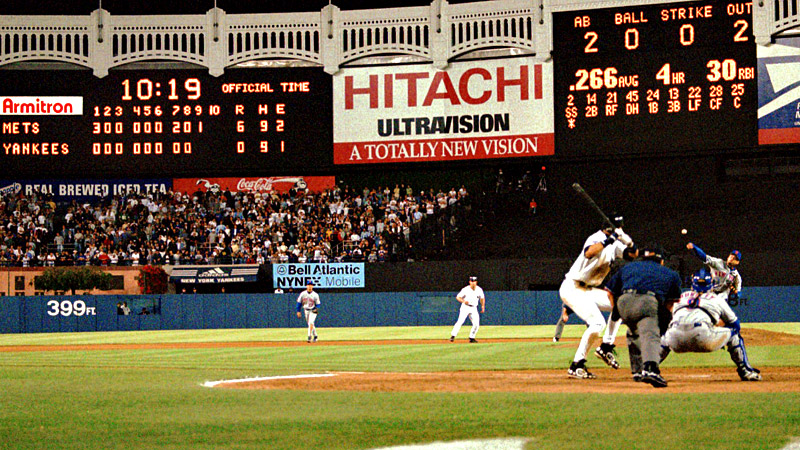 It had all the feel of the seventh game of the World Series. John Olerud was the offensive star of the game, tagging Andy Pettitte for two hits including an RBI double in the first to put the Mets up 1-0. Olerud would end up with three RBIs in the game.
Another memorable moment came when catcher Todd Hundley took off from third base and stole home off Andy Pettitte. It was on the tail end of a double steal as Butch Huskey swiped second and got all the attention.  
Probably one of the most satisfying moments of the game was how it ended. Yankee Stadium roared with chants of "Lets Go Mets" for the final three innings, but all hell broke lose after Mlicki struck out Derek Jeter for the final out of that historic contest.
Sheer exuberance came over all of us and we were all caught up in a joyous and surreal moment. We beat the New York Yankees 6-0 in a regular season game in Yankee Stadium.  
Yes, it really happened.