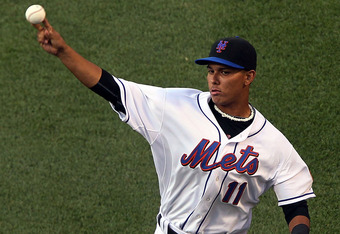 On Friday night, when Mets second baseman Ruben Tejada battled Phillies' pitcher Antonio Bastardo in a 16-pitch at-bat that resulted in a walk, manager Terry Collins said it was "as good as an at-bat as we've seen all year from anybody."
"He fought off the good pitches. The thing I thought was truly amazing was that he took a couple close pitches that were off the plate that were balls. That's what I like because that tells me that he has great knowledge of the strike zone and a great feel for what he's doing. He didn't expand the zone. He stayed with it, just tried to put it in play and not do too much. That was an outstanding at-bat against a real tough pitcher."
Tejada's 16-pitch at-bat is two pitches greater than the longest at-bat in the majors this season, which had been accomplished three times according to the Elias Sports Bureau, .
At the time, the Phillies and Mets were deadlocked in a 3-3 tie with two out in the eighth inning. Tejada quickly fell behind 0-and-2, but quickly fouled off three pitches while taking three balls and working the count full. Tejada then proceeded to foul off seven consecutive pitches before finally taking ball four and earning the bases on ball.
"Walking is fine because you win the at-bat," Tejada said. "He threw me away, away, away, a couple sliders. I tried to hit the ball to the right side."
Tejada, 21, isn't exactly known for his offensive prowess, but Terry Collins believes he will become a quality hitter as he gets older, bigger and stronger. For now, the Mets value him for his glove, but Tejada has had some timely hits during his short time in the majors. He was batting .267 with three homers and 18 RBI in 39 games before he was called up.
That at-bat ended up being one of the highlights of the game which the Mets lost unfortunately. Tejada did all he could to get on base and become the potential winning run for the Mets. You really have to admire that type of tenacity and drive in one so young as Tejada. It's definitely a great quality to have.