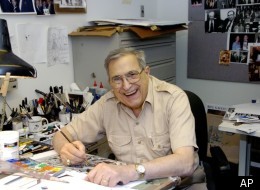 Sadly, Bill Gallo, the beloved cartoonist and columnist for the New York Daily News, passed away yesterday. Gallo, who worked for the News for seven decades, died Tuesday from complications of pneumonia at White Plains Hospital. He was 88.
"His death closed a chapter in the storied history of The News," said Daily News chairman and publisher Mortimer Zuckerman. "The passing of our great cartoonist, colleague and friend Bill Gallo marks the end of an era."
It sure does. I never was one for reading the comics growing up, but I would never miss a Bill Gallo cartoon. It was more than just a cartoon because Gallo always knew how to make each illustration jump off the page and deliver a statement. Of course my favorite cartoons were the ones that featured the Mets and especially Basement Bertha who actually appeared in Gallo's last cartoon on April 19.
Gallo was born in Manhattan on Dec. 28, 1922, but grew up across the river in Queens. I will certainly miss his talents, and with his passing New York loses one of it's iconic legends.
Gallo didn't just limit his scope to baseball, football and boxing. He never missed the mark when the national headlines got in the way of sports.
Rest In Peace, Bill…