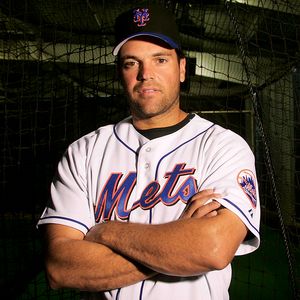 Some of you may recall that whole bizarre period during Mike Piazza's final years with the Mets, when the team was trying to get the soon to be Hall of Fame catcher to move to first base.
It all began when someone asked a question… 
Why is Mike Piazza still catching and not playing first base?
As early as 2001, the whispers started, the perfectly timed rumblings from team sources that always manged to find their way into the back pages of the paper. The murmurings died down after Mike Piazza's heroics that fateful September, but by that Winter the whispers were now daily fodder and a part of Mets Hot Stove debate.
As the 2002 season started however, Mike Piazza was still seemingly entrenched behind the plate. By that time, even the Mets coaches and manager Bobby Valentine had already added to the debate through their post game quotes as base-runner after base-runner stole at will against Piazza. But still, Piazza would go through the entire season without ever laying his fingers on a first baseman's glove. The entire saga now evolved from the absurd to the incredibly bizarre.
In 2003 the Piazza to first base discussion reached a fever pitch. It was daily fodder on sports talk radio and now a full blow daily sports story, but on Opening Day that season, there was Mike Piazza – still crouched behind the plate.
Things were getting comical. It even started getting to the point where reporters would flock to Piazza's locker after each game asking him point blank, "Isn't it time you consider moving to first base."
Piazza always responded the same way, "Nobody from the team has ever broached the subject with me. I'll do anything to help the team, but management has never asked me about it."
This went on and on for literally months.
Art Howe was now running things for the Mets, but it wouldn't be until September of 2003 until he would finally announce to the press that Mike Piazza will be taking fielding practice at first base. Finally, the near three-year soap opera had come to an end… Or so we thought… You see, Art Howe told everyone it seems except the one person who should have been told first – Mike Piazza. He found out later that afternoon when he came into the clubhouse to find three-dozen reporters waiting by his locker asking him his thoughts on his new position. Oooops… Howe forgot to mention it to him.
They eventually got it all straightened out, and in the second to last game of the 2003 season, Mike Piazza made his long anticipated debut at first base. By the start of the 2004 season, Mike Piazza was now the Mets first baseman. It was an unmitigated disaster. These are the Mets, and you're a Met fan, deal with it. Life goes on.
On to my point…
Just as in 2001, it all begins with a question…
Why is David Wright still batting third in the lineup?
Blasphemy? No, not really.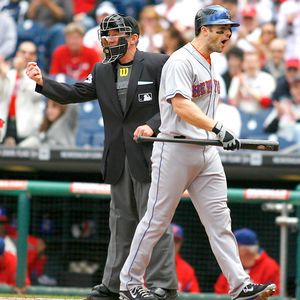 After last night's defeat to the Astros, David Wright who batted 0-3, saw his batting average plummet to a new low – an abysmal 231. The last time this season, his batting average was north of .300 was back on April 14th.
Some may call these recent struggles a slump, just like any other slump a hitter goes through, but I disagree. There's more to it. In fact this so-called slump started on August 1, 2010 and there have been few bright spots between then and now.
Last season, Wright batted .225 in August and .248 in September/October.
In fact, over his last 346 at-bats, David Wright is batting .235. That's about 3/4 of a season worth of playing time, so lets stop the pretense that he is mired in a slump.
In the last three series alone, David Wright made the last out in a Mets loss four times, all by strikeout. All with a red-hot Carlos Beltran watching from the on-deck circle.
And yet, day in and day out for almost four months the Mets continue to pencil Wright into the No. 3 spot of the batting order. I'm sorry if you disagree, but that's just wrong.
And the worst part is that two different managers and two different GMs have ever done anything to change that. They avoid it like the plague. It seems like that whole Piazza situation all over again.
Nobody wants to approach the face of the franchise with such an uncomfortable request.
Nobody wants to seem to fix something that is obviously broke.
Terry Collins aid in the spring, "I will do everything I possibly could do to make this team win ballgames. Winning ballgames will always be our number one priority."
Really?
Wright is batting .178 in his last eight games… What will it take?
Think of all those potential run scoring opportunities that went down the drain because Wright was walking back to the bench when Beltran was hitting singles, doubles and home runs with such surprising frequency. Then consider all the one run losses the Mets have already compiled this year – nine of them already to lead the majors.
Wright is suffocating the heart of the order.
We have Jose Reyes batting .318 with a .364 OBP and leading the NL in hits, doubles and triples, but he only has 23 runs scored – one more than Wright – because he's been left stranded on base countless time by the Chosen One.
For some strange reason David Wright's name is etched in stone as the number three hitter in the Mets lineup…
Why?