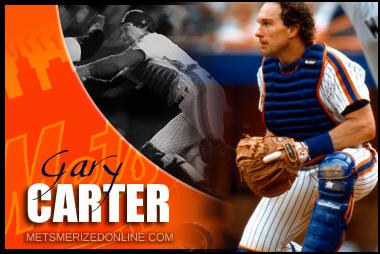 Tonight, doctors at Duke University Hospital have confirmed that Gary Carter has glioblastoma, a form of brain cancer which affects the central nervous system.
The doctors have released the following statement:
"The results of biopsies performed on the tumor in Gary Carter's brain have conclusively shown that Mr. Carter has a glioblastoma. While surgery is not a good option given the location of the tumor, we discussed an aggressive treatment plan with Mr. Carter and his family, which will include chemotherapy and radiation. Mr. Carter will be returning home to Florida to begin the next phase of his treatment, but we will continue to work closely with his medical team. Mr. Carter's youth, strong physical condition and fighting spirit will be to his advantage as his treatment commences. The outpouring of support for Mr. Carter has been incredible and we trust that his many friends and fans will join us in continuing to pray for him and his family."
Gary Carter's family issued the following statement regarding the diagnosis:
"While we are saddened by the news we received today, we take comfort in the overwhelming support and prayers that have been extended to our family during this difficult time. We have boundless faith and hope knowing that the Lord will help see us through the challenging weeks and months ahead. Gary is getting the best care possible and is blessed with an incredible support network including family, friends and loyal fans. Gary was always a fierce competitor on the baseball field and that same tenacity will help him not only fight but win this battle, so please join Team Carter and continue to pray with our family."
If anybody can beat this, it's Gary Carter.
We join all of Gary's friends, family and of course his extensive baseball family, in wishing Gary well as he goes through this difficult treatment and we all hope for a speedy recovery.
Original Post 5/27
It's with sadness that I report that the family of Gary Carter have released a statement that doctors are 90% certain that the tumors in Gary's brain are malignant.
The statement was read minutes ago on WFAN.
"It was very hard for all of us to hear, as we have been hoping and praying that the tumors would be benign," one of Carter's daughters wrote on the website. "Lots of tears have been shed in the hospital room today, and we are all a bit scared of the unknown."
The family will release an official diagnosis after the Memorial Day Weekend.
Say a prayer for Gary.