Updating my post from yesterday, here is some new speculation from Ken Rosenthal of FOX Sports, who believes the Mets should trade Jose Reyes now.
Reyes, 27, is the healthiest he has been since 2008. He is 6-for-6 in stolen-base attempts and working diligently to improve his on-base percentage, which currently is .351.

Terrific! Trade him now.

As one rival team official says, referring to Mets GM Sandy Alderson, "Sandy is not going to pay $100 million for a guy who might break down" — particularly given the team's uncertain finances.

Shortstop is a thin position throughout the sport. The Giants, Angels, Reds, Brewers and Cardinals are among the teams who would benefit significantly from the addition of Reyes.
Rosenthal says that the Mets have enough talent and depth in the minors to eventually replace Reyes and names Ruben Tejada, Jordanny Valdespin and Wilmer Flores as potential candidates. 
Incidentally, one of our readers (Shamsky) reminded me that Jose Reyes Banner Night is on August 5th. That's five days after the Trade Deadline.
Original Post 4/18 2:00 PM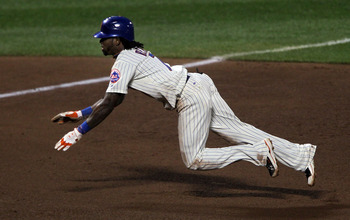 The New York Mets may be off to a rocky start this season, but one Met rising above all the pandemonium is Mets shortstop Jose Reyes who has been a one-man highlight reel thus far this season.
Among some of his early season highlights are these:
He has 23 hits to lead the Mets, thats seven more hits than the second highest Met, Ike Davis who has 16 hits. He also ranks 5th in the National League.
He had his 13-game hitting streak end in the second game of Saturday's doubleheader, it was the best mark in the National League. He has also collected at least one hit in 14 of the Mets' first 15 games this season.
Jose Reyes currently leads the Mets in most offensive categories including singles, doubles, triples, total bases, runs scored and stolen bases.
One thing that  everybody has their eyes on this season is Reyes' On-Base Percentage – especially after GM Sandy Alderson made comments that he wanted to see Reyes get on base more as a leadoff hitter. Right now, his OBP stands at .351, but what I find most surprising so far in this first month of the season, is that Jose Reyes leads the Mets in Slugging Percentage with a .493 mark. That is higher than Ike Davis, David Wright and Carlos Beltran.
You could say that Jose lost two prime years of his career while dealing with the impact of various injuries during the 2009 and 2010 seasons when he was just 25 and 26 years old. Typically, that's the age that most hitters begin to breakout, so we may be seeing that this season from Reyes in 2011. He could be having one of the best seasons by a leadoff hitter the Mets have ever had, and the one huge season that everyone has been waiting for and knew he was capable of.
Reyes has desired a multi-year contract to stay in New York because as he said on many occasions, New York is his home and where he wants to stay. Many thought that would happen this past offseason, but the front office chose to pick up his 2011 option instead.
Based on some comments that were also made, you could say the front office threw down a challenge that they wanted to see what Reyes can do this season before they even begin to discuss a contract extension.
Now whether that's true or not remains to be seen. But one thing is certain, and that is that Jose Reyes is well on his way to having his best season ever as a Met and one of the finest leadoff performances in the National League in quite some time.
If he continues to perform at these current levels, and there is no reason why he shouldn't, Jose Reyes will also be rewarded with one of the richest free agent contracts of the 2011 offseason, possibly even blowing away what Carl Crawford got simply because he plays a more demanding position than left field.
There are many baseball experts who don't see the Mets keeping Reyes for this entire season and instead they say, he he will be shopped and dealt before the Trade Deadline for a package of prospects.
If that happens, things may get uglier at Citi Field later this year.
Reyes may never fit the mold of what Sandy Alderson wants from a lead-off hitter, but that does not mean he can't help this team in over a dozen other ways at a very high level. Reyes is such a multi-dimensional talent that he supersedes a typical lead-off hitter with a .370 or better OBP. He can beat you in a variety of ways, and he should be appreciated for all those things.