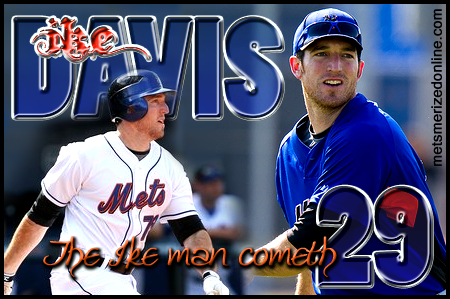 There are going to be a lot of changes over the next year. But I think it's a pretty safe bet to say that Ike Davis is as close to untouchable as anyone could be on this Mets roster. That is for good reason, since there is no reason to move a 25 year old budding young power hitter, who is under the teams control for the next 6 seasons.
Unless the Mets fill the clean up hitter vacancy through a trade, they will be looking in house or in free agency. The two best options in Free Agency are Albert Pujols and Prince Fielder, both of whom play first base. One possibility is to try to sign one of these hitters, and move Ike to the outfield, where he has played in the minors. But with the Mets financial issues right now, it seems unlikely they would have the money for either of these power hitters. That leaves them to fill from within, enter Ike Davis.
I think it is a very real possibility that Ike can fill the Clean up hitting void going forward. Once Carlos Beltran leaves either via trade or free agency, the Mets will be left with David Wright, Ike Davis and Jason Bay as their potential in house replacements. Wright is a great hitter, but he's more suited to be batting 3rd or 5th. Bay is a very solid hitter, but in a good lineup he would be more productive batting 5th or 6th.
What do you look for in a clean up hitter? You look for a guy who hits for a decent average, has pure power, drives in runs and is clutch. Ike Davis leads the team in batting with a .352 average through his first 25 games. Davis leads the team in RBI with 19, and has been the most clutch hitter early on, batting .385 in his first 26 at bats with RISP. Ike has raw power, and when he gets a hold of one, it's usually a no doubter. He recently went on a tear belting 3 home runs in 3 games, one of which was a 430 foot shot to dead center. Last season he hit the Shea Bridge with a walk off blast. Of the Mets big four guys, Davis is probably the purest home run hitter we have.
I know prorating usually isn't accurate, but Ike currently has 4 home runs through his first 88 at bats. If you prorated that over a full season, say 560 at bats (he will probably have more), this would put Ike at 28 home runs. Not bad for a 25 year old number 6 hitter, who hit 19 in his rookie season. Also with his 19 RBI through the first month, there is a very real chance that he will drive in 100 runs. If you combined his rookie season with this season's numbers his line would look like this, 611 Ab's (close to a typical season's worth of at bats), .277 average, 23 home runs and 90 RBI.
Last season Ike batted 4th for 58 games, spanning 239 AB's. He belted 11 homers and drove in 40 RBI while batting clean up. Once Beltran returned, he moved down in the order batting 5th or 6th where he played 85 games, and had just 6 homers and 27 RBI. But had he been left in the 4th spot over those 85 games we could have been looking at a 25 homer 90-100 RBI in his rookie season. I know, its all speculation, and teams made adjustments as his rookie season went on. But, the numbers showed him batting better when he hit 4th proving he has the ability to hit there, especially since he did it as a rookie.
I know I am putting stock in a short sample early in this season, but I just have a feeling about this guy. The way I feel about Ike is the way I used to feel about Wright when he first came up. I felt like I wanted David up in a big spot because he would get the big hit, I'm beginning to feel that way about Ike. I started to feel this way last season, but his start to this season has made me feel even stronger about it. With all of the potential changes on the horizon, there is a very real possibility that when the finally dust settles, Ike will be batting clean up and become the face of the franchise.