As the Legend of Matt Harvey and his 22 inning scoreless streak continues to grow, another former first round pick at Double-A Binghamton named Brad Holt has gotten off to an impressive start this season.  Holt looks to prove that his struggles are behind him, and knows his key to success is regaining command of the strike zone.
Brad Holt was the Mets first round pick in back in 2008, 33rd overall. He burst onto the scene with the Brooklyn Cyclones and turned heads in his first pro season. In 14 starts he struck out 96 batters in 72 innings, going 5-3 and pitching to a 1.87 ERA.
In his second pro season he started out in Single-A Port St Lucie and pitched his way up to Binghamton. After going 4-1 in Port St Lucie with a 3.12 ERA, he went 3-6 with a 6.21 ERA for Binghamton as he was clearly over matched.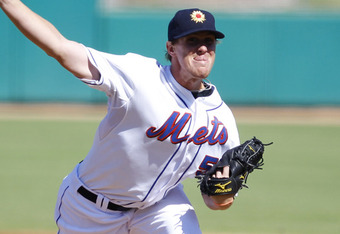 Holt's 2010 was a season to forget as he struggled right out of the gate.  He went back down to Port St Lucie and went 2-9 in his first 14 starts with an ERA of 7.48.  His lost command of his pitches and was all over the place, as he walked 56 batters in 65 innings.  To give him a change of scenery he was moved to double-A Binghamton, where for the second consecutive season he looked over matched.  He made 9 starts in Double-A, and went 1-5 with an ERA north of 10.  He continued to walk batters at a clip of almost a batter an inning, with 23 in 30 innings.  His overall numbers for the 2010 season were a sight for sore eyes.  He went a combined 3-14, with an 8.34 ERA, and allowed 79 walks and 111 hits, totaling 190 base runners in just 95 innings.
After a season of Struggles both mentally and physically, Holt and the Mets thought it would be good for his development if he participated in winter ball.  He impressed in 4 starts, going 2-1 with a 2.92 ERA.  During the his time in winter ball he worked on his command and added a cutter to his repertoire with the help of Mets Triple-A pitched coach Ricky Bones. Holt's arsenal now features a four seam fastball, cutter, curve ball and change up. "The biggest thing coming off of last season was not having any type of command, so all the wildness was making all my thoughts jumbled," Holt said, "I cleared my thoughts and I started to do what felt comfortable out there, and I think that has played a big part in me getting back in the zone and throwing strikes."
Coming into the 2011 season Brad Holt knows that he needs to take one step at a time.  "My goals are plain and simple, and that's to command my pitches.  Holt says, "I just need to keep working and focus on keeping everything down in the zone."  Taking lessons from the past few seasons Brad has gotten off to a fast start here in 2011.   He has started this season where he left off getting pummeled last season, as a member of the Double-A Binghamton Mets.  He has pitched like someone who has regained his confidence and has something to prove.  In his 3 starts so far this season he has pitched a total of 18 innings.  Brad has allowed just 2 runs, 1 Earned, and currently sports an ERA of 0.50.  He has only surrendered 9 hits, walked 5 and struck out 14.  He has not figured into any decisions as of yet, but he seems to have regained the form that warranted a first round pick back in 2008.  While Brad may be behind where many people thought he would be in terms of his development, and estimated arrival date in Flushing, its is still possible to see him there sometime in 2012.