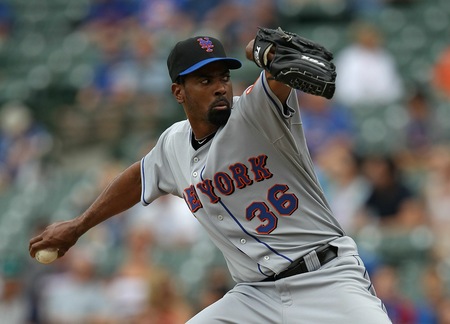 Since floating the idea that Bobby Parnell could be sent down to the minors to start the season yesterday, we have a little more clarity based on some new information.
This morning, Andy Martino of the Daily News wrote that the Mets front office "has considered demoting reliever Bobby Parnell to the minors", but a team source told him that they decided to reject the idea because of how far he came along last season.
I'm still not so sure that Parnell is still out of the woods, for the same reasons I cited in my post yesterday and as Martino wrote in his column today.
The mere consideration of such a move, however brief, underscored the bullpen crunch facing the Mets in the final week of spring training.  It is a good problem to have, as the cliché goes, but in a sense it is not; the team risks losing several promising arms to waivers, opt-outs and retirement.
The other thing that makes it difficult for me to see the Mets not temporarily sending Parnell down is how much the team loves Manny Acosta.
The 29-year old, right-handed reliever excelled last season posting a 2.95 ERA and 1.21 WHIP in 41 appearances for the Mets and doing so in overpowering fashion with a whopping 9.5 strikeout rate per nine innings. He has maintained that K/9 rate this spring and has a 1.91 ERA as well. Even before coming to the Mets, Acosta had three decent seasons working in the Atlanta Braves bullpen and has a 3.40 career ERA.
Yesterday, I also suggested that the Mets go with an eight man bullpen to start the season, perhaps for only a week in an attempt to get a better feel for Rule 5 pick Pedro Beato who has never pitched above Double-A. That would at the very least, buy them some time and keep an extra reliever who they are afraid of losing.
Here's the thing the way I see it…
What the Mets don't want is to keep Pedro Beato only to find out that he's not major league ready, and then see Manny Acosta thrive in another teams bullpen and do for them what he did so well for the Mets last season. If that were to happen, it could become embarrassing.
But with that said, the same source who told me last week that the Mets are strongly considering an eight man bullpen, now says that Terry Collins is not on board with the idea and the front office wouldn't go in that direction without his blessing.
If that's the case, then the front office will have to find more creative ways in trying to solve what has become a perplexing problem for them.