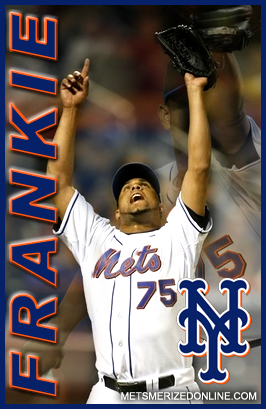 Before that unfortunate altercation ended his season, Francisco Rodriguez was well on his way to a tremendous campaign in 2010.
His 3.30 BB/9 was the best of his career, and his 10.52 K/9 was down right nasty.
According to ESPN, one of the reasons for his improved performance last season was that he threw more first-pitch strikes than ever before, a whopping 60.6 percent of them.
K-Rod saved his best stuff for Citi Field, where he had a 0.88 ERA and 1.01 WHIP in 28 games there last season. There's no question that his numbers still place him among the elite closers in the game, but the even better news is that K-Rod might be even better in 2011.
For the 99.9% of you who don't follow or believe in spring training stats, you may want to just skip to the last two paragraphs. For the rare few who still enjoy the statistical pleasures of spring training and find hope in particularly strong performances, read on.
Don't look now but Francisco Rodriguez is mowing batters down in Grapefruit League action. He is as focused and determined on the mound as he's ever been in his career. I'm talking "Eye of the Tiger" type stuff.
In his last appearance, he specifically asked Terry Collins to let him go more than an inning, and then proceeded to blow away all five Astros he faced, the last three on strikeouts. So far in three games he has pitched 3.2 innings and has only allowed one baserunner while striking out four. Small sample size, yes, but if you forget the stats and use the eyes God gave you, you could see that Rodriguez is in prime mid-season form. He has a new attitude and he is as intimidating a presence as we've ever seen since he became a Met.
K-Rod said his fastball and breaking ball are showing extraordinary sharpness for this point in camp. "Usually you have that almost in the middle of the season," Rodriguez said. "In the middle of spring training I already feel good about it."
Collins, who does believe in spring training stats and will pick his best 25 players using those stats, was ecstatic over his closer. "I don't know if I've ever seen a closer come in a game like that and throw the ball as well as K-Rod did today," Collins said. "That was terrific stuff."
Jon Heyman of SI.com had this to say regarding a conversation he had with K-Rod's agent regarding his vesting option.
Francisco Rodriguez's agent, Paul Kinzer, said he plans to be vigilant about watching how the Mets handle K-Rod this season, considering his $17.5 million option that's triggered if he finished 55 games and the club's well-documented financial woes.
I know that a lot of you are very worried about that option kicking in, and I outlined my plan on how to get around that here, but if K-Rod can be the weapon of mass destruction I believe he will be this season, I couldn't give a damn about the option. Hell – it's not my money anyway. All I want to do is win, and if it means giving K-Rod 60 save opportunities, then by all means do it.