Good News!
Carlos Beltran, Sandy Alderson and manager Terry Collins met today and mapped out a new plan that will have Beltran fully participating in Grapefruit League games by this weekend. All three are very confident that he will be breaking camp with the Mets on Opening Day.
"At this point, assuming everything goes well over the next eight days, he's right on track for Opening Day" said Sandy Alderson. "I still believe he's going to be ready," Collins added.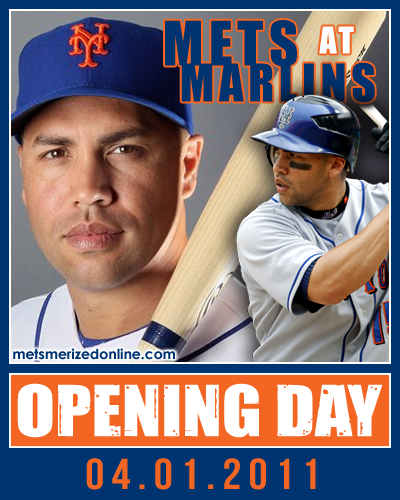 One of the big questions going into Opening Day in just nine days, is whether Carlos Beltran will be stationed in rightfield against the Marlins. So far Terry Collins and Carlos Beltran say absolutely.
Yesterday, Beltran got some at-bats in a minor league game and hit the ball great including a double and home run while hitting left-handed. 🙂 
Here he is in the second of my 2011 Opening Day Mets Graphics Series!
2011 Mets Opening Day Graphics
1. David Wright
3. Guess Who?