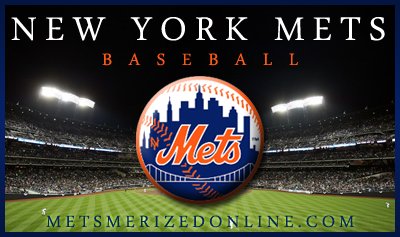 Saturday Updates
David Waldstein relays a funny story about a head-to-head race yesterday with all the players. The drill was a 60-yard dash, but Jose Reyes and Angel Pagan were told to start 5 yards behind the rest of the staggered crew, and Ike Davis was told to stand a few yards in front. Reyes and Pagan came from their positions on the blocks to pass everyone, with Reyes catching Pagan at the end to win by a fraction of a second. "It's no fun running with those guys," Davis said. "They make me look like a kindergartner."
According to Brian Costa, only one team has spent less money on signing draft picks than the Mets in the last five years. That said, Paul DePodesta told him that things will change and to look for the Mets to be financially aggressive in this year's draft. 'When our turn comes to pick in every round, we're going to take the guy that we think is the best player on the board and not worry so much about the signability portion of it."
Mets prospect Darrell Ceciliani who won the New York-Penn League batting title last season with a .351 average, spoke with Adam Rubin and had some glowing remarks about his Cyclones teammate Cory Vaughn. "He's got all the tools. He can hit for power, for average. He's got speed, and can steal bases. And in the outfield he'll make the plays. He's always out giving it his all. The best thing about Cory is he's always having fun"
Yes, spring training stats don't matter or so we think, but Terry Collins took note of Scott Hairston's two homeruns during yesterday's intrasquad game, two of four blats in the game. "There were some good things," manager Terry Collins said. "Obviously Scott Hairston shows us exactly why we brought him here." Willie Harris also homered in the game.
And now it's time for some real baseball… well almost real…Mets Baseball resumes today with the Grapefruit League opener against the Atlanta Braves this afternoon. Game time is at 1:10 PM and will be broadcast live on WPIX and WFAN 660.
The lineup is as follows:
1. Jose Reyes SS
2. Luis Castillo 2B
3. David Wright 3B
4. Angel Pagan CF
5. Jason Bay LF
6. Ike Davis 1B
7. Josh Thole C
8. Scott Hairston DH
9. Fernando Martinez RF
Jenrry Mejia will start for the Mets, and also expected to pitch are Manny Acosta, Pedro Beato, Taylor Buchholz, John Lujan, and Armando Rodriguez.
Interesting to see that Castillo is not only in the lineup, but that he is batting second, something we oftentimes railed against Jerry Manuel for last season.
Keep a close eye on Beato and Buchholz who have been getting a lot of raves so far in camp.
Friday Updates
It was the the Mets versus the Mets today at Port St. Lucie in the first game action of the spring. Scott Hairston and Willie Harris both homered in the game. Jordany Valdespin scored the winning run on a sac fly after a walk, and a stolen base that saw him take third after a bad pickoff throw. Igarashi picks up the W with 2 perfect innings. Final score Mets 3 – Mets 2. Perfect. 😀
Terry Collins had some high praise for 24 year old catcher Josh Thole who will be the Mets everyday backstop this season. "Josh Thole has really improved as a defensive catcher," manager Terry Collins said. "I saw him last spring for the first time, and the advancement he made from the start of the season to when he got called up was phenomenal". Read more on this at the NY Post.
David Waldstein writes that Jason Isringhausen continues to impress the Mets, and that if he keeps throwing the ball the way he has so far in camp, he has a strong chance to return to the Mets 12 years after he was traded away. Manager Terry Collins watched Isringhausen throw live batting practice Thursday and came away impressed. "I thought Isringhausen was outstanding."
David Lennon makes a bold prediction and says that Rule 5 selection RHP Pedro Beato is a lock to make the team out of camp and grab one of the open spots in the Mets bullpen. It's still early, and there is a lot of competition in camp, but Lennon is one of many who are raving about the young fire-baller. Adam Rubin relays that pitching coach Dan Warthen has asked Francisco Rodriguez to help Beato refine his delivery which K-Rod agreed to do.
Andy McCullough tells us that David Wright is devoted to improving his defense this season after another below average season defensively for him in 2010. His 20 errors ranked third in the National League. For the second consecutive year, he finished last among all qualified third basemen in Ultimate Zone Rating (UZR), a metric that measures a player's range in the field. Seriously, Wright has been getting a free ride on his defense from Mets fans, if it were anyone else playing 3B I wonder if that player would get the same pass.
TRS86 from the Real Dirty Mets calls John Stearns the most underrated Mets catcher of all time, and Gary Carter the most overrated catcher the Mets ever had. While I agree with him on "Dude", no matter how I slice it, I can't call Carter overrated. Not as long as he's wearing that 86 ring on his finger. His first couple of years with the Mets alone, keep him from being tabbed overrated. To me the most overrated was Brian Schneider who was supposed to be like Master Yoda on defense, and instead looked more like Mr. Magoo.
Today's video comes from the Hartford Courant who interviewed the 2010 Mets #1 Draft Pick, RHP Matt Harvey.