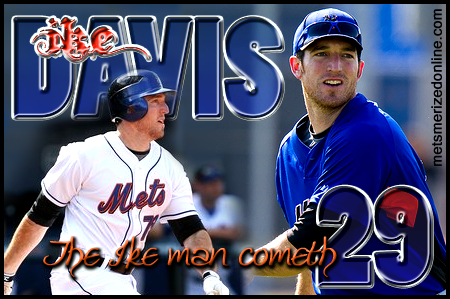 "I don't think I've seen a guy, pound for pound, with more pop than he's got…It's just a matter of him getting his reps in, seeing the league a couple times, and getting comfortable. He showed me enough last year to impress me. He's very slick at first, a well-rounded ballplayer. If he connects, the ball will hit the Grand Canyon." ~ Chipper Jones
When a future Hall of Famer like Chipper Jones, says something like that about any young player, you must take note of it. Guys like Chipper don't regularly throw compliments like that around, especially for players on a division rival like the Mets. It speaks volumes.
Ike Davis was one of the few surprises in an otherwise forgettable season in 2010. He had a good, but very inconsistent rookie season that might have been great if it weren't for a horrendous two-month slump that wreaked havoc on his overall numbers. He started last season off with a bang hitting .324 in April, and finished with a bang hitting .330 in September. It was what happened in between that worried me about Ike; May .235, June .264, July .214, August .250.
The one thing that gives me hope was that by the time the season ended, it looked like Ike Davis had started to figure things out. He saved his best month for last as his .427 OBP, .527 SLG and .954 OPS can attest. Another thing to note about his final month of the season was that his strikeout rate was the lowest of the season striking out in 20% of his at-bats rather than an appalling 30% in previous months.
Ike Davis is a throwback to when players like George Brett and Keith Hernandez patrolled the diamonds. He's as intense a players as they were, and always demands more of himself as a player. Guys like this have a need to want to be better. 
Bill Madden of the Daily News caught up with Ike Davis on Sunday, and some of the things Ike had to say show just how focused he is on improving his overall approach offensively. While commenting on his play in yesterday's game, Davis said:
"I felt like I did okay. But at the same time, I'd like to play better than I did. It's not easy hitting home runs in our stadium and I'm not going to think about that. I see myself as a guy who can hit at least 20 homers. But I need to concentrate on hitting for a higher average and being more consistent, with a better approach. In particular, I want to be a better two-strike hitter."
I mentioned Hernandez and Brett earlier because during their primes they were both lethal two strike hitters – a quality I always admire in a ballplayer. I remember how they would choke up and shorten their swing and exploit what was supposed to be a pitcher's count into their favor.
One of the things Davis is working on this spring is shortening his swing, which he hopes will result in more hits if not home runs.
"The idea," he said, "is to have better at-bats … put the ball in play more … put some pressure on the other team. Ground balls have a tendency to go through where fly balls get caught."
He speaks more like a seasoned and savvy veteran than a sophomore who's trying to avoid a second year slump. Even last season, rumors abounded that it was he who was vocally frustrated that some Mets players had given up late last season. For years we have been waiting for David Wright to take on a strong and vocal leadership role with the Mets, but it hasn't really materialized. But with Ike Davis, you saw a player who demanded excellence from himself as well as his teammates. There is no quit in this kid, and he may eventually become the on-field and clubhouse leader this team has needed for the better part of a decade. I guess it's true what they say, leaders are born, not made. 
I expect a great season from Ike in 2011. My guess is that he will hit about 25 homeruns, but I'd also look for about 35-40 doubles as well. He should easily top 100 RBI's if the rest of the team remains healthy and do what they're capable of.
While it's very fashionable to rail against Omar Minaya these days, Ike Davis is one of many young and solid Mets players I will remember him most for. The old core players of Wright, Beltran and Reyes are now in their final season together with no rings on their fingers to show for it.
Davis is now part of the new core of players that includes guys like Josh Thole, Bobby Parnell, Jon Niese and Mike Pelfrey. And unlike the former core, this one has a natural born leader in its midst. The Ike-Man Cometh.