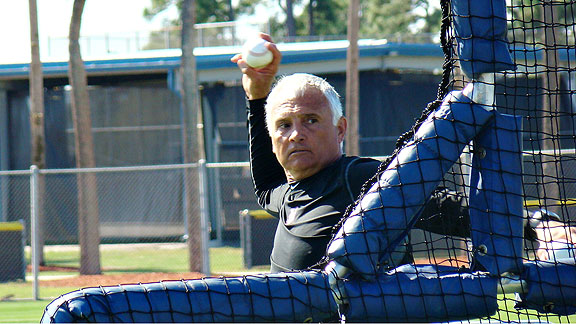 Terry Collins will have a tough job this Spring. Not only will he have to overcome the disappointment of the last four seasons and try to change the tempo in the clubhouse and the performance on the field, but if that wasn't tough enough he now has to do it while trying to play through the financial uncertainty that hangs over the team like a black cloud.
Nobody said it would be easy, but basically he will be managing a fourth place team that is long on underachieving and short on great expectations. He also gets the added bonus of having undesirables Oliver Perez and Luis Castillo on hand as he looks to turn the page on 2010 – a difficult task given that they are the poster boys for everything that went wrong. Whether that mantra is undeserved or not, they are the last two faces fans and maybe even some players, wanted to see in camp this Spring.
Collins can't do much about that as apparently they will get a full Spring Training before any decision is made.
There will be new big star this spring either. Cameras. recorders and note-pad wielding reporters will not be flocking around anyone like they did with Jason Bay last season, K-Rod in 2009, and Johan Santana in 2008. It's going to very quiet.
Even the body count is going to be a lot lower with only 50-55 players expected to contend this Spring rather than the 65+ during the Minaya years. The lines at the buffet table will be a lot shorter.
Collins expects to tackle the Madoff issue head-on when the full contingency of players arrive to camp by the middle of next week. He will try to get them to filter out all the noise and focus on the promise of a new season instead.
Adam Rubin reports,
New York Mets manager Terry Collins may not utter the precise words "Ponzi scheme" or "Bernard Madoff." But the manager does intend to bring up the topic at the start of spring training, to ensure players are focused on what they ought to be doing — preparing to win games.

"It's like Jeff Wilpon said: 'This is out of our control,'" Collins said Wednesday, after throwing batting practice at the team's complex. "We can only worry about the stuff that we can control, and that's our performance on the field. We're going to make sure that is brought across the first official day down here."
Collins will have his work cut out for him.
It won't be easy trying to ignore this potential scandal when the players themselves are being asked about it almost daily. Two days ago David Wright and Chris Capuano were asked to address it. Yesterday Jose Reyes and Josh Thole commented on it.
You can try and wish this mess into the cornfield, but that only worked for Billy Mumy.
All we can do is hope for the best.
Photo credit to Adam Rubin.