Shannon over at Mets Police posted the Dick Young column from the June 15, 1977 edition of the Daily News (sorry no link) that many still call the precursor to the infamous trade that sent Tom Seaver to the Cincinnati Reds for a package that included Pat Zachry, Steve Henderson, Doug Flynn, and Dan Norman.
Here is parts of it, but you can read the whole article in it's entirety at Mets Police.
Tom Seaver is after more money. He wants to break his contract with the Mets. "Renegotiate" is the pretty word he used for it in this time of pretty words.

So, Tom Seaver said, over and over, that the Mets were not competitive in the free agent field. He said the front office was not spending money the way it should. He made it appear that he wanted the money to be spent on others, but really he wanted it to be spent on him. He talked ideals, but actually he was talking hard cash.

Like O'Malley, Tom Seaver couldn't say that out loud. How would it sound for Tom Terrific, All-American boy, to disavow a contract he had signed in good faith?

It comes down to this: Tom Seaver is jealous of those who had the guts to play out their option or used the threat of playing it out as leverage for a big raise—while he was snug behind a three-year contract of his choosing. He talks of being treated like a man. A man lives up to his contract.
That was harsh. What a shill Dick Young was for the Mets, not an ounce of objectivity whatsoever. I don't know, maybe reporters were more opinionated and cynical back then and not as politically correct as they are today, but the worst part of this story is that Young himself bolted the Daily News in the middle of a contract a few years later, so he could take a sweeter deal to write for the New York Post. I guess he had no regard for his own manhood.
Seaver himself always said that it was the Dick Young article that stoked his fire and he knew his days were numbered after reading that. "That Young column was the straw that broke the back," Seaver told the Daily News in 2007. He was right, his days were numbered all right and that number was one. That same night Seaver was traded and although I'm not really a conspiracy theorist by nature, I wonder if that article was written with some firsthand knowledge that a deal had already been agreed to with the Reds? You know, to help put the Mets in a better light? (As if there was any chance of that happening.)
Anyway, pretty wild stuff and in that same Daily News retrospective, Bill Madden asked Seaver how he felt now about that dark day in Mets history?
"It was both the worst day of my career and the best day as I look back on it now," says Seaver. "The team was being run into the ground by Grant – and really had started to go down after Gil (Hodges) died (in 1972). If I had stayed, once the whole face of the club had begun to change, would I have won 300 games? As it was, I got to play with Rose and (Johnny) Bench in Cincinnati, then I got to see the other league and got to play with Pudge (Carlton Fisk) and even got to experience the Red Sox in 1986 and all that Boston energy. It would have been nice to be a Met my whole career, but I'm eternally grateful to have experienced all I did."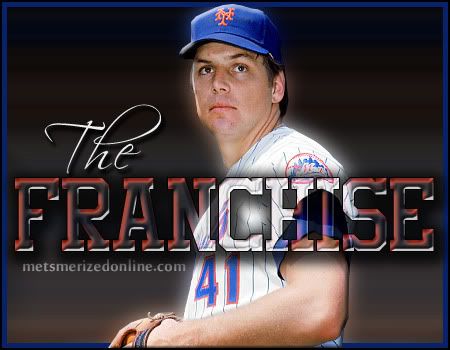 Where Are They Now?
These are some of the the notables from that day that will forever live in Mets infamy.
Tom Seaver – A winemaker in Calistoga, Calif. (just north of Napa) where he has just bottled his first vintage (2005) of Cabernet Sauvignon, Seaver still does occasional promotional work for the Mets.
M. Donald Grant – Died Nov. 28, 1998 at age 94 in Hobe Sound, Fla. A year after the trade, Grant was forced out as Mets board chairman and in a press conference at "21" he told a group of writers he "was tired of being kicked around" while insisting, "I'm a good guy. The press made such a martyr of Seaver that it killed me."
Dick Young – Died Aug. 31, 1987 at 69. Vilified by Met fans for his role in the Seaver trade, Young was booed lustily on the occasion of his induction into the writers' wing of the Hall of Fame a month later. Typically defiant, he began his speech by taunting them: "Ladies and gentlemen and members of the Tom Seaver fan club…" In a touch of irony, Young, who had criticized Seaver for wanting to renegotiate his contract, was guilty of the same thing himself when, in 1981, he broke his contract with the Daily News to jump to the Post.
Jack Lang – Remained Mets beat writer until 1985 and retired from The News in 1989. Lang, who was inducted into the writers' wing of the Baseball Hall of Fame in 1987, died of liver disease on Jan. 25 in Huntington, L.I. He was 85. "He was a dear friend," said Seaver. "Jack was a guy who always played it straight with you."
Joe McDonald – Was replaced as Mets GM in 1980 by Frank Cashen when Nelson Doubleday and Fred Wilpon became owners. Later worked as GM of the St. Louis Cardinals and is now a scout for the Red Sox based out of his home in Lakeland, Fla.