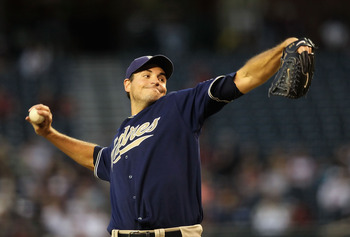 The Mets have made a series of minor signings this offseason, but one of the more significant ones was the acquisition of former Padres starter, Chris Young. Sandy Alderson spoke of how dominating Young was in San Diego last week. 
"Chris has the potential to make a big contribution this year. We were together in San Diego when he was one of the most dominating pitchers in the league and we feel he's a good fit for Citi Field."
Young will be paid $1.1 million in guaranteed salary, but could earn another $3.4 million with incentives based on games started and innings pitched. He had a lot to say during his conference call last week and his enthusiasm and excitement was quite apparent.
"I'm really excited about the way I feel right now. I feel healthy. I feel strong. I'm hopeful that it will hold up. I expect it to based on the work and the conditioning that I've done. I look forward to being successful. I'm throwing right now. I don't have a radar gun on me, but I feel the life on the ball and the arm speed is better now than it was at the end of the season. I feel like my arm is stronger now than it was at the end of the season. I was actually pleased at the end of the season. I felt like each start progressively the velocity went up about a mile per hour. That was just part of building arm strength, and unfortunately the clock sort of ran out of time."
In the only three starts Young made after his return from a near season-long DL stint, he had a decent showing and had worked himself up to throwing 82 pitches, throwing 51 of them for strikes. He allowed only nine hits in fourteen innings, but was a little wild and gave up eight bases on balls. However, he bore down and only allowed two runs to score, both coming on a 2-run homer. There's reason to be hopeful with Young, and his addition could end up being the one that makes the most impact from this offseason.
| Opp | Rslt | IP | H | ER | BB | SO | ERA | Pit | Str |
| --- | --- | --- | --- | --- | --- | --- | --- | --- | --- |
| STL | W,8-4 | 4.0 | 3 | 1 | 3 | 3 | 0.90 | 69 | 41 |
| CIN | W,4-3 | 5.0 | 3 | 1 | 3 | 1 | 1.20 | 72 | 42 |
| CHC | W,3-0 | 5.0 | 3 | 0 | 2 | 6 | 0.90 | 82 | 51 |
|   |   | 20.0 | 10 | 2 | 11 | 15 | 0.90 |   |   |
Young sees that same potential with the Mets as the Padres had last season when they were picked to finish last and one of the surprise contenders in 2010.
"I know that the starting pitching has taken a little bit of a hit with Johan Santana being out, but hopefully he'll come back strong at some point during the season. Last year, being on the Padres, it served as a great learning experience for me. But you really can't make predictions until you get out on the field and play the games. Last year San Diego was picked to finish last, and maybe lose close to 100 games, by a lot of experts. The team overachieved, and it really was a great group of guys who believed in one another. Based on what I've seen so far here, it's the same type of chemistry within the guys. There are a lot of good guys here that I've met thus far. If we all pull together and believe in each other and play the game the right way, anything is possible."
The biggest point Young makes comes in his closing sentence where he talks about believing in each other and playing the game the right way. I'm hoping to see just that from the Mets this season.