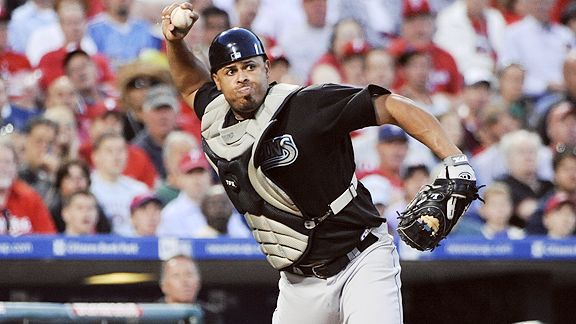 The Mets have agreed to sign Ronny Paulino to a one-year deal worth $1.3MM plus incentives, according to Enrique Rojas of ESPNDeportes.com.
The deal is pending a physical which should take place in New York either today or Thursday.
Mark Simon of ESPN, did some number crunching this morning and has some glowing remarks for the Mets new backup catcher.
The right-handed Paulino hits left-handed pitching like few others in the big leagues. His .338 career batting average against lefties rates sixth-best among those with at least 300 career plate appearances against lefties. His on-base percentage against lefties (.390) is a little low for a guy who hits them that well due to a low number of walks, but it's still a good number nonetheless.

Paulino's presence against the lefties will give the Mets a huge improvement over what they had in 2010. Thole, Rod Barajas, Mike Nickeas and Blanco had a .155 batting average, .194 on-base percentage and .427 OPS against lefties last season.

His defensive numbers, while not as good as Henry Blanco's, don't raise any statistical red flags. He throws out about 25 percent of baserunners attempting to steal, a number slightly better than the major league average for catchers (22.7 percent).
Paulino, 29, hit .259 with four home runs, 37 RBIs and 31 runs scored in 316 at-bats last season.
This seems like a solid pickup for the Mets.
Original Post 10:30 AM
According to Jorge Arangure of ESPN, a source has told him that the Mets are closing in on a deal with free agent catcher Ronny Paulino, formerly of the Pittsburgh Pirates.
Paulino, 29, batted .259 last season with with four home runs and 37 RBI in 91 games for the Marlins.
He is currently suspended for using performance-enhancing drugs and violating the MLB Drug Policy and still has games remaining on his 50 game suspension, so he would not start the season immediately on Opening Day.
Paulino is a career .273 hitter, bats right handed, has some gap power, and should fill the bill as Thole's backup catcher, but defensively he's not in the same mold as Henry Blanco. He can hold his own although he has no arm so expect opposing teams to start running wild when he's in the game.