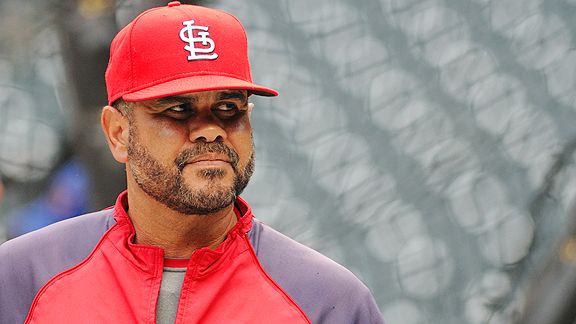 The Mets have added one more manager to their first round of interviews. According to David Lennon of Newsday, the Mets will interview Jose Oquendo on Monday in Orlando.
Updated 1:15 PM
According to Adam Rubin, Tim Teufel will not be interviewed for the Mets manager position as first thought.
When Sandy Alderson mentioned he may add one or two final candidates to the managerial interview mix, he apparently was not speaking about Tim Teufel. Multiple sources familiar with the process do not believe the former Mets infielder would be interviewed for the managerial position, even though he is thought of highly.
Teufel could emerge as a candidate for the coaching staff, but that is for discussion down the road.
Also, the frontrunners for the managerial job are becoming clearer. Terry Collins, Clint Hurdle and Bob Melvin all appear likely to get second interviews, and possibly Chip Hale as well.
As I already posted, Alderson has already interviewed Don Wakamatsu and Clint Hurdle this week, and should be meeting with Ken Oberkfell today. Former Met and current St. Louis Cardinals coach Jose Oquendo could be interviewed as well.
Second round interviews will begin next week and so far Chip hale, Wally Backman, Doug Melvin and Clint Hurdle are all expected to be interviewed.
Original Post 11/10/2010 12:00 AM
According to Steve Popper and Bob Klapisch of the  Bergen Record Wally Backman will be one of the candidates who will be scheduled for a second interview next week.
Sandy Alderson hopes to complete the first round of managerial interviews by this weekend, but The Record has learned that Wally Backman will be among the group of second interviews."
The Mets have already interviewed five internal candidates: scout Bob Melvin, minor league fielder coordinator Terry Collins, bench coach Dave Jauss, third base coach Chip Hale and Class A manager Wally Backman.
Based on glowing comments made by Paul DePodesta today and rumors that he is still the front runner, you can be sure that Collins will also be among the group of candidates who will be granted a second interview. That said the only name leaked as been that of Backman.
Sandy Alderson also said that he will interview Ken Oberkfell in the Dominican Republic on Thursday or Friday.
Yesterday, he interviewed Red Sox bench coach DeMarlo Hale, and he plans to interview former Colorado Rockies manager Clint Hurdle, and former Seattle Mariners manager Don Wakamatsu today. 
All first-round interviews should be complete by this weekend, and second round interviews will take place next week.
The fact that Backman will get a second interview indicates, at least to me, that he is being seriously considered to fill the Mets managerial vacancy. I could understand those who said his first interview was to appease the fanbase, but a second interview dispels that notion and puts Backman in very strong position.
It's no longer far fetched to believe that Wally Ball could be coming to Citi Field in 2011.