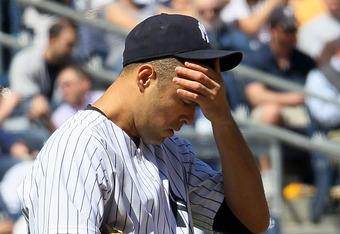 We now know that the Mets need a starting pitcher.  Last week Sandy Alderson made it known that Johan Santana would not be ready for opening day.  While this didn't come as a shock to me it does mean that the Mets need another starter as it's not known if and when Santana will be ready.  Unfortunately there's not much out there for starting pitching after Cliff Lee.  One of the pitchers on the free agent market is former Yankees pitcher Javier Vazquez.
Javier Vazquez did not have a good year in 2010 playing for the Yankees.  This was his second time with the Yankees and it most likely will be the last one.  As soon it was announced that the Yankees and Braves made a trade that would bring back Javier Vazquez the media and fans were shocked and confused to put it mildly.  Unfortunately for the Yankees and Vazquez the fans and media who predicted that Vazquez would not succeed for a second time in the Bronx were right.  Vazquez finished 2010 with a 10-10 record and an ERA of 5.32.  Vazquez also had a 5.56 FIP. Things got so bad that as the season progressed Vazquez was taken out of the rotation and banished to the bullpen.  Also Vazquez despite making 11 million dollars last season was left off the post season roster even though the Yankees pitching was not as strong as it was in 2009.
We already know the Mets are not going to go after Lee and they don't have anybody they can trade that will net them a decent to good starting pitcher.  I've seen in some chat rooms and I even heard a couple of callers on WFAN suggest Vazquez due to his good season in 2009.  In 2009 Vazquez had a great year playing for the National League Braves, posting a record of 15-10 and an ERA of 2.87.  He also finished in 4th place for the 2009 Cy Young Award. That's why I was surprised that the Braves were willing to trade him.  I knew it was a mistake that the Yankees traded for Vazquez.  I also didn't think that Vazquez would pitch well in the American League.  It also looks like that he cannot handle pitching in a big market such as New York so even though the Mets play in the National League he's not right for the Mets.
Surprisingly there are reports that Vazquez's asking price will not be cheap after a bad 2010 that saw his fast ball drop from a consistent 91-92 MPH for most of his career to just 88-89 MPH.  If Vazquez was young we could argue that he could be fixed but Vazquez is 36 years old.  His control was also off, especially on his fastball.  There are reports that he's seeking 8-10 million dollars per year and wants a 2 year deal.  Also I don't think Vazquez can handle New York after 2 bad seasons already in this town.
Jon Heyman mentioned this past Saturday on his twitter account that Vazquez is seeking a 3 year contract worth 33 million dollars.  The Mets don't need an aging pitcher who is losing velocity on his fastball and getting older.  I understand there is a need for starting pitching but to throw money at a bad player just to fill a hole is an Omar Minaya move and thankfully he's no longer in charge.  We already have Oliver Perez and his bad contract, we don't need Javier Vazquez and another bad contract do we?