On the last day for teams to add minor leaguers to their 40-man roster and protect them from the Rule 5 draft, the Mets made a few moves. They added pitchers Josh Stinson and Armando Rodriguez and infielders Zach Lutz and Jordany Valdespin to their 40-man roster.. Previously, pitcher Manny Alvarez had been added. The deadline for protecting players from the Rule 5 draft is 11:59 PM tonight.
In case you were wondering who the Mets cut to create these open spots, earlier this month they removed Eddie Kunz, Raul Valdes, Mike Hessman, Omir Santos, and Jesus Feliciano. A pretty good swap if you ask me.
Sticking with Mets prospects, the 2010 Arizona Fall League season ended today, and Adam Rubin of ESPN New York, provides a recap of how our players performed this year.
Infielder Jordany Valdespin finished seventh in the AFL in batting average at .355, although his season ended after a Nov. 8 appearance because of a forearm strain. Similarly, right-hander Brad Holt (2-1, 2.92 ERA, 12.1 IP, 10 H, 9 BB, 13 K) had his season cut short after pitching one inning on Nov. 3).
Josh Satin went from the twice-a-week taxi squad playing first base to his natural second base full time after Valdespin's injury. The Cal-Berkeley product ultimately hit .390 with one homer and six RBIs in 41 at-bats.
Kirk Nieuwenhuis, who perhaps has surpassed Fernando Martinez as the top upper-level outfield prospect, had his average slip to .256 late. In 90 at-bats, Nieuwenhuis had one homer, 12 RBIs and two steals in five attempts.
Catcher Kai Gronaeuer, a native of Germany, who has not yet played above Class A, hit .222 with eight RBIs in 45 at-bats.
On the pitching side, left-hander Robert Carson went 1-2 with a 7.71 ERA in 18.2 innings. Left-hander Eric Niesen went 1-0 with a 5.40 ERA in 11.2 innings (while allowing 17 hits and four walks). Right-hander Nick Carr went 0-1 with a 5.06 ERA in 16 innings.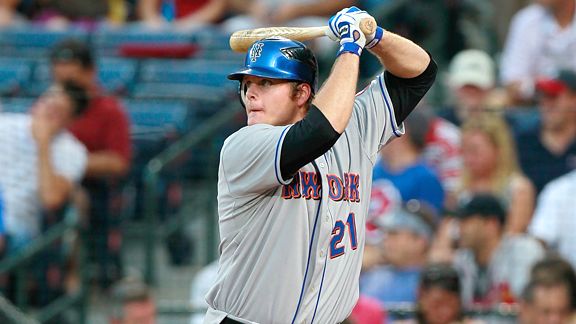 In case you missed it, Jonathan Mayo of MLB.com completed his Mets Organizational review. Definitely worth checking out.
Lucas Duda, 1B: Duda began the year as perhaps more of an organizational type, a seventh-rounder out of the 2007 Draft who was starting his second season in Double-A. By season's end, he was firmly on the map and in the big leagues after hitting .304/.398/.569 across two levels in the Mets system. He tied for the organizational lead in homers (23) while leading it outright in RBIs (87) and finishing third in batting average.
James Fuller, LHP: The lefty taken in the 21st round of the 2008 Draft began the season with Savannah, but he ended up with St. Lucie. Perhaps a touch old for his level (he turned 23), he nevertheless was named the South Atlantic League Most Outstanding Pitcher and an All-Star. He led the system in ERA (2.19) while striking out 124 against just 38 walks. His 1.93 ERA in the SAL would've led the league had he stuck around long enough to qualify.
Finally in minor league news, the Mets have re-signed left-hander Mike O'Connor to a minor league contract, according to Baseball America. The former National reliever went 5-2 with a 2.67 ERA and six saves in 51 relief appearances at Triple-A Buffalo last season.