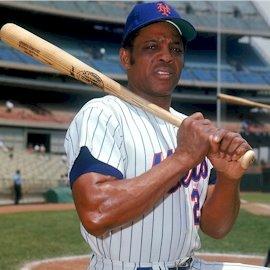 I was in tenth grade and Charlie Williams was being traded for a legend, tough to be an answer to a trivia question for the rest of your life.  As we all sit and wait for the Mets Brain Trust to make a decision that may or may not make their lives as baseball genius' livable or a living hell the next four years, I was reflecting on what the good old days were like when I was in my early years as a Met fan. (It now appears they have made a decision to appoint Terry Collins as the new Met Manager for at least the next two years).
My dad was a NY Giant fan and my birthright was to become a Met fan, because they filled the void that the NY Giants left in 1957, ironically the year that I was born.   The early days of being a Mets fan included going to Walt Whitman Mall in Huntington from our house in East Meadow and going to the Mets ticket outlet in the back of the Macy's store to buy our yearly dose of Met tickets, usually to go to see the his Giants.  Remember paper tickets, no Ticketmaster, or computers in those days, you had the tickets when you purchased them and you had to make sure you didn't misplace them or allow the dog to eat them.
I seem to remember that General Admission in those days was less than a dollar, and when they raised the prices to over a dollar, my dad said we couldn't afford to go.   The journey to Macy's was usually a couple of months before the big day of the game when the Mets hosted the SF Giants and the anticipation of seeing number 24 was great. The stories my dad  would tell me about how Mays would patrol centerfield at the Polo Grounds and how he would effortlessly run the bases and OH! that sweet swing!
But what about the supporting cast, Juan Marichal, Willie McCovey, the Alou Brothers and Orlando Cepeda, who was traded to the Cardinals in 1966.  The team in this era, in the first year of the Mets existence, 1962, played to a seven game World Series loss to the the dreaded New York Yankees.  But it was during this time that I was introduced to Willie Mays.  Back in the day of the reserve clause and before Curt Flood and Andy Messersmith and Catfish Hunter, when you were with a team you stayed with them until they traded you or you retired.
Years would come and go and then May 11, 1972, Charlie Williams, who, I actually was sad to see go, was traded for my idol, with the proverbial amount of cash.  Charlie then became the answer to many trivia questions.  But it was too late.  Willie Howard Mays, Say Hey, was not what he was in previous years and for some of us, it was painful to watch.  He hit .211 in that last year and he hit his 660th career home run off Don Gullett on August  17th, 1973. He hit only six home runs in that last season. He played in only the first three games of the 1973 World Series and went two for seven and Yogi had him sit after game three.
So as we sit and wait for the official announcement on Tuesday that Terry Collins is in fact the new Mets Manager and we look forward to "new" good old days, we reflect on some of past heroes and think about how a team that ended the season at 82 and 79 and almost beat a very good Oakland A's team with Reggie Jackson and a pretty good pitching staff including Holtzman, Fingers, Hunter and Blue, and wonder when they can be great again.  There doesn't appear to be much help in the free agent market, and there appears to be a Madoff budget number, the brain trust, Alderson et al, will have to perform magic through sabermetric analysis.  So after the manager hysteria is over in the next two days, the real work begins, who the heck is going to pitch every five days for this team?  Where is Charlie Williams today?