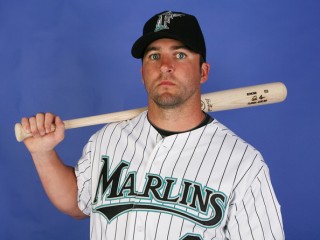 The Braves fired the opening salvo to the Hot Stove Season when they acquired powerful second baseman Dan Uggla today from the Marlins for utility man Omar Infante and lefty reliever Mike Dunn.
Wow, that one kinda snuck up on everybody…
Somebody please tell me what the Marlins were thinking?
Even if you were to ignore the fact they traded him to a division rival, how can you justify a return like that for one of the premier sluggers in the league?
The Marlins would have been better served by waiting until the Winter Meetings before pulling the trigger on this.
Original Post 11/14 3:00 PM
Lately, I've been seeing a lot of buzz in the Mets blogosphere abut Marlins second baseman Dan Uggla.
Apparently, Uggla has broken off negotiations with the Marlins on a contract extension according to Ken Rosenthal of FOX Sports, who writes:
The Marlins, unable to reach agreement on a contract extension with Dan Uggla, plan to trade the second baseman, according to major-league sources. The team is "down the road" with several clubs in trade discussions, and a deal could happen within the next week, one source said.
It seems that his availability has sparked some interest among many Mets fans, but I just don't see how Uggla would fit in with the way the Mets are currently configured.
To begin, the Mets have yet to decide what they will do with incumbent second baseman Luis Castillo. They also have promising rookie Ruben Tejada in the mix as well as emerging minor leaguer Justin Turner. The Mets have also dispatched Daniel Murphy to the Dominican Winter League to play exclusively at second base and word is that he's having no problems adjusting to the position defensively.
The reason that talks between Uggla and the Marlins broke down is because the 31-year old second bagger is looking for a four year deal that will pay him in upward of $15MM annually. There's no question about Uggla's offense and power as he has shown with four consecutive seasons of averaging 30+ home runs and 90+ runs batted in. The problem with Uggla is that he is a poor defender and hardly the type of player for a team that is building a team centered around pitching, speed and defense.
Uggla committed a career high 18 errors last season to go with an unsightly -7.6 UZR, for those of you who have been complaining about Luis Castillo the last two seasons, Uggla is considerably worse.
He is expected to get about $10 million dollars in his final season of arbitration before becoming a free agent after the 2011 season.
The Marlins are not going to simply give him away, so in addition to the huge cash outlay, there's the question of what prospects it will take to land the 2010 Silver Slugger award winner.
The kind of offensive production Uggla will give you at second base is pretty tempting, but it's more likely that he will end up in the American League where he will get plenty of time as a designated hitter.
He simply is not the kind of player the Mets should be targeting right now.
It may be better to just go with some combination of Daniel Murphy, Justin Turner and Ruben Tejada for one year, and hope that 2008 first rounder Reese Havens develops and will be ready to take over the position permanently beginning in 2012.