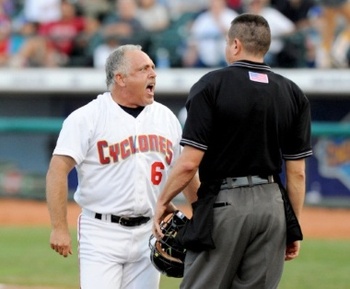 For those of you who were curious as to why Sandy Alderson decided against Wally Backman as a manager, he spoke to Kevin Burkhardt and shed some light on why he decided to go in another direction.
"I enjoyed meeting Wally," Alderson said. "We had, of course, long discussions with him over two occasions. One was just myself. And I can understand why the fans were so supportive of Wally. Wally is going to be in the organization. He will play another important role for us next year. But, when it came to all of the things we were looking for, we just felt that Terry [Collins] was at this time the more complete package. We did think that having managerial experience at the major league level was important. … It wasn't something that disqualified anyone, but it certainly was a factor."
As for where Backman ends up, Alderson said that Backman will remain with the organization as a minor league manager, although he did not specify at which level. Some reports have Backman expected to manage the Class-A St. Lucie Mets in the Florida State League.
There's a lot of speculation that the reason that Collins only got a two-year deal, was because they wanted his experience during the transitional period, but also because they see him as a bridge to Wally who will gain more experience in the meantime, managing at higher levels of the Mets minor league system.
What do you think, can you still see Backman in the picture down the road for the Mets? Or will Wally have to leave the Mets organization to get his shot at managing in the major leagues?