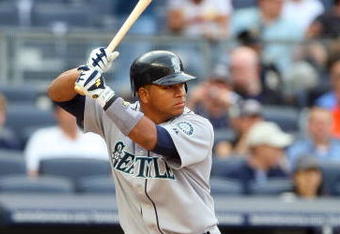 The other day I read on MLBTR that Jose Lopez could be non-tendered by the Seattle Mariners, thus making him a free agent.
The 26 year old Lopez, had a very disappointing season in 2010 as did just about any Seattle Mariner not named Ichiro Suzuki. He batted only .239 with 10 home runs and just 58 RBI, and while those numbers would have been an upgrade over anything Ruben Tejada or Luis Castillo produced, it was a significant drop-off for Lopez. 
I took a great liking to Lopez in 2009, when he helped guide my fantasy team to victory in the Battle of Mets Blogs where I won the division and eventually topped Amazin Avenue to win the World Series. After that, I decided to hang them up and go out as a champion, but I never forgot the great season my second baseman Jose Lopez gave me when he batted .272 with 25 home runs, 42 doubles and 96 runs batted in.
Lets throw away this season for a moment and look at how productive Lopez has been in the last three previous seasons.
| Year | Age | G | AB | R | H | 2B | 3B | HR | RBI | SO | BA | SLG |
| --- | --- | --- | --- | --- | --- | --- | --- | --- | --- | --- | --- | --- |
| 2007 | 23 | 149 | 524 | 58 | 132 | 17 | 2 | 11 | 62 | 64 | .252 | .355 |
| 2008 | 24 | 159 | 644 | 80 | 191 | 41 | 1 | 17 | 89 | 67 | .297 | .443 |
| 2009 | 25 | 153 | 613 | 69 | 167 | 42 | 0 | 25 | 96 | 69 | .272 | .463 |
You could safely assume that the 2010 season was the fluke for Jose Lopez, and not the norm. As Lopez enters into his prime years, you have to believe that he will only get better or at the very least return to his previous form.
The cash strapped Seattle Mariners may not be able to afford the $5 million dollar price tag Lopez is expected to win in arbitration, but that would be a bargain for the Mets who have been paying $6 million annually for the declining skills and production of Luis Castillo who may not even be a Met in 2011.
I'm a huge Ruben Tejada fan as I've mentioned before, but putting the 20-year old's major league career on hold for another couple of seasons would not hurt the Mets and would actually help the kid. In the meantime, Lopez may give the Mets some big-time offense at second base which is something they haven't had since Edgardo Alfonzo moved on.
Now most of you know I'm not that big on saber-stuff, and I still struggle with the definition of WAR, but I do understand how important it is to be clutch, and apparently Jose Lopez was the 2nd most clutch player in baseball in 2010 despite his negative WAR. David Wright has a great WAR, but hardly clutch. Lopez may have only hit 10 homers and drove in 58 RBI, but a great many of them were clutch and put his team on top for good and resulted in wins.
Top 10 "Clutch" Players in 2010
Player / Clutch / Wins Above Replacement
Michael Bourn, Astros OF / 1.87 / 2.0
Jose Lopez, Mariners 3B / 1.81 / -0.1
Shin-Soo Choo, Indians OF / 1.67 / 4.0
Carlos Lee, Astros OF / 1.45 / -0.8
Russell Martin, Dodgers C / 1.42 / 2.0
By the way if you think it was a one-year fluke, it's not. Lopez has been among the top ten of the most clutch players ever season since 2008. 
Heaven knows we can use someone that clutch on this team. The fact that Jose Lopez plays second base, is very cheap, is still young and has plenty of power, are all added bonuses. 
It's definitely something to consider as we move into the hot stove season. I always felt that one of the Mets biggest stumbling blocks has been a failure to get good complimentary players to surround their highly paid players at LF, CF, 3B and SS. Lopez could be one of those type players at second base and would give the Mets a very solid infield to contend with next season. It's just a thought.
On another note, I'll be rooting for the Texas Rangers to go all the way in the post season and look forward to watching them beat the Yankees beginning on Friday.
One final note… Back when things were less hectic and not as busy on MMO, I used to spend the majority of my time reading a handful of other great Mets blogs each day and even linking to some of their posts throughout the week here on this site. Among those blogs I loved were Faith and Fear, Shea Nation (now gone), Mike's Mets and of course My Summer Family. Today, I read that Coop is hanging them up after a solid four years of blogging at My Summer Family. She is a class act and one of the most passionate Mets fans I know. P.S. Don't ever make the mistake of engaging her in a debate about Mets lore and history either, because she may just end up wiping the floor with you… literally, lol. Those of you who read her posts here on MMO know just how knowledgeable and passionate she is. I'm certainly going to miss My Summer Family. Good luck Coop!