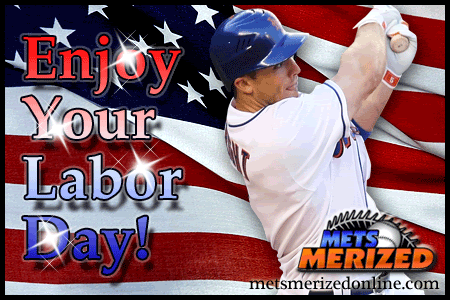 I'm gonna take the day off and wanted to wish all our readers a Happy Labor Day. As a treat, here is something I posted a year ago this weekend. Enjoy.
Original Post September 3, 2009
What's Not To Like About Ike?
When the Mets selected first baseman Ike Davis with the first of their two first round selections in the 2008 June Draft, expectations were high for the Arizona State slugger. However, a disappointing showing in his first taste of professional baseball had many wondering if Davis was a first round bust.
While playing for the Class-A Brooklyn Cyclones, Davis hit just .256 with 15 doubles and 17 RBIs in 58 games with Brooklyn. But what was most troubling, was how many homeruns he clubbed for the Cyclones; none.
Davis would start his 2009 season playing for Class-A St. Lucie and not at Binghamton as many had initially hoped. The Mets felt they needed Davis to show some improvement before promoting him to Double-A, and there were some growing concerns within the organization.
This time however, Davis was ready to prove his 2008 showing was just a fluke and not the norm.
In 59 games for St. Lucie, Davis would hit a much more respectable .288 and he nearly doubled his RBI output from a year ago. More importantly, he started swinging the bat with the type of power that had drawn the Mets to him in the first place. To go with his 17 doubles and three triples, Davis had also swatted seven homers, and a lot of folks began to breathe a little easier.
He was soon promoted to Class-AA Binghamton, and in 202 at-bats he is hitting .307 and leads the team with a .940 OPS. Oh yeah, and as for the homeruns… he's hit another dozen and drove in 42 RBI's to go with them. I'm not going to tell you where I've ranked Ike Davis in our Top 25 Mets Merized Prospects which will be released next month, but you can be sure he cracked the top five. 
Yesterday, Ike Davis fell a triple shy of the cycle and drove in three runs Sunday to lead Binghamton to a 5-3 victory at Akron, but that wasn't the big story of the day for Ike.
Davis is one of 23 privileged players who were selected to play for Team USA and compete in the World Cup which begins on September 9th and will feature teams from 20 different countries from all over the world. Davis will leave Binghamton and join his teammates in Europe as they prepare for the start of the competition. Davis was thrilled to be selected,
"It's always a great honor to play for your country. It's totally different, but it's great. All you're concerned about is winning. If you go 0-for-4 but you win, it doesn't bother you that much. It's like a throwback to when you'd go out there and nothing mattered but winning. It's always a privilege."
It's going to be a busy year for Ike Davis because as soon as he gets back from World Cup play, he is expected to join his fellow Mets teammates who have been chosen to appear in the Arizona Fall League, where he will play with and against baseball's elite prospects.
Obviously, Ike has come a long way especially when you consider how poorly he started off in 2008. That seems like just a distant memory at this point, as Davis has shown himself to be the power hitter the Mets are thirsting for and I'm not exaggerating.
Davis has hit 19 home runs so far this season which leads every player in every level of the Mets organization including the big league team.
At just 22 years old, Davis must now be considered the odds on favorite to replace Carlos Delgado in the heart of the Mets order and take over first base duties from Dan Murphy. At this point the question is not if Ike Davis becomes the Mets future first baseman, but when. Once he improves his plate discipline and works on his pitch recognition, it's not far fetched to believe that Ike Davis could appear at first base for the Mets by July of next season.
I think the odds of him winning a job in the spring are very long, but a solid showing in Buffalo next May and June, could have Ike Davis in Flushing faster than one of his booming home runs.