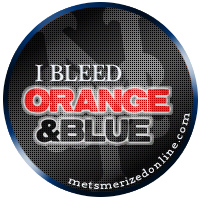 Ahh… Is there anything more satisfying than waking up the morning after a satisfying victory over a division rival, especially a 9-1 pounding like we gave the Phillies last night…
So many things are just working so well for the Mets right now. When will all of this good fortune come to an end? I mean it has to right? Isn't that our lot as Mets fans? Maybe not…
Yesterday I stated my reasons as to why the current hot streak may not be the fluke so many people think it is. I cited how well the bullpen has been performing, and by the way, can we finally give some credit to Omar Minaya for getting so many things right lately?
I also mentioned the emergence of Mike Pelfrey, the return of a healthy Jose Reyes, and a few more things that would suggest that this team might just be as good as they appear right now. I didn't even utter a word about how phenomenal Rod Barajas and Henry Blanco have been in handling this pitching staff… or their prowess at the plate and on the basepaths.
The great Bill Parcells once said, "you are what your record says you are". 
Still, so many Mets fans remain unconvinced like James K. of the excellent Amazin Avenue, and our own Danny Krieger as well. "Realists" they call themselves.
I can't quite tell what keeps so many from taking the plunge and reveling in the excitement of the last two weeks, but I guess all the years of Mets upsets have left them deeply scarred and incapable of believing again? Nobody cared about small sample sizes in early 1969 or 1986.
Imagine if the last two weeks was the best we'll ever see from the Mets this season and it was all downhill from here? (Heaven forbid!) At least those who immersed themselves in the invigorating enjoyment of the last two weeks will always have those moments of sheer fandom to always remember. Not from some cold and empty statistical standpoint, but from a pure emotional mega-fan's point of view. The memories like the one's my uncle used to share with me, I recall his excitement in the telling of a Steve Henderson pinch hit grand slam in 1978 to beat the Expos 6-5 as the Mets started the season 3-0.
They would go on to lose 96 games that season and finish in last place, 24 games behind the Phillies. But yet to hear him talk about that one game and how Shea Stadium rocked like they just won game seven of the World Series, and how the entire town was caught up in Mets fever was clearly still running through his veins. His telling of it was exciting to envision. Things were simpler back then.
Twenty-five years from now a few of us will be able to recall these last two weeks of amazin Mets baseball with that same exact enthusiasm when we tell our kids, grandchildren, nieces and nephews why we we're Mets fans. The individual moments of the last 14 days will be coursing through our veins too. None of us will remember their UZR's and VORP's or cite small sample sizes. You don't measure great memories that way.
Don't be so afraid to get your damn feet wet… take the proverbial plunge and and embrace the moment without fear of the future. If you're a Mets fan then shout it out loud. That's what fanatics do. Pastimes are not for realists, they are supposed to be a reprieve from the reality of life.
Express your fandom… Don't be afraid to believe… Only Heaven knows how long the Mets can compete at this level, so why waste one minute or one second or one moment in doubt?
Will it really make you feel that much better to twist your arm patting yourself on your back and exclaiming "I told you those statistical trends won't hold up"?
Give it a break, you are either a fanatic or you're not.
The Mets are in first place, a game and a half in front of the hated Phillies… I don't know about you, but I'm all in…