Rod Barajas has been a savior for the Mets this season. In addition to saving the Mets with his offensive contributions, and saving the rotation with his top-notch game calling, you could also make the case that he is also responsible for saving Jerry Manuel's job too.
Last night when Barajas grabbed his wrist in pain after blocking a pitch in the dirt by Jenrry Mejia, a collective gasp could be heard throughout Citi Field. Luckily, Barajas is fine and x-rays after the game came back negative. Whew…
On Monday, MLB released the early results for the 2010 National League All Star voting.
Not surprisingly, is the news that five Phillies currently lead their respective positions and they include 2B Chase Utley, SS Jimmy Rollins, 3B Placido Polanco, OF Jayson Werth and OF Shane Victorino.
Also not surprising is the fact that the Mets have no players leading in any of the eight starting positions, although a strong case could be made that at least one of them is very deserving of a starting job on this year's NL squad.
No I'm not talking about David Wright or Jason Bay, the one Met who in my opinion truly deserves a starting berth is catcher Rod Barajas.
Currently, Barajas has a lot of ground to make up if he wants to catch Yadier Molina who leads the voting so far, followed by Carlos Ruiz, Pudge Rodriguez, Brian McCann, and Russell Martin. Can you believe he is only ranked sixth?!?!
It's time to mobilize Mets fans…
I have a big problem with the voting so far…
A rejuvenated Pudge Rodriguez and a consistently solid Yadier Molina are having great seasons, and both Russell Martin and Brian McCann have had superb seasons in the past, but are not producing anywhere near an All Star level this season. Carlos Ruiz simply doesn't merit consideration and will probably fall off when the next round of voting is revealed.
With your help, we can help get Barajas voted in. Take a look at these accomplishments:
Rod Barajas currently ranks #1 in the NL with 10 home runs. Of the five catchers in front of him in the early voting, only Brian McCann comes close with just 5 homers, half as many as Rod.
Barajas ranks #2 in runs scored with 20 while batting mostly eighth in the batting order. Russell Martin leads all catchers with 25 runs scored batting mostly second in a potent Dodgers lineup . Yadier Molina has just eight runs scored this season.
Barajas ranks #1 among all catchers in total bases with 74 and #1 in slugging percentage with a robust .554 mark.  The next best mark among those catchers who lead in the voting comes from Pudge Rodriguez whose .439 slugging percentage is more than 100 points lower than Barajas.
Barajas ranks #1 in RBIs with 27, one more than Yadier Molina who bats in the middle of a potent Cardinals lineup. Additionally, Yadier has played in five more games than Barajas.
Barajas ranks #2 in doubles with eight two-baggers, only one behind Pudge who leads with nine of them.
Now here's a stat I dug up I thought you might like. Barajas has grounded into just two double-plays this season. Pudge leads all catchers with ten GIDP's, followed by Yadier Molina who has seven, four more than his lead-footed brother Bengie who has three.
As you can see, Rod Barajas stacks up better than any of the catchers that currently are out-pacing him in the All Star voting.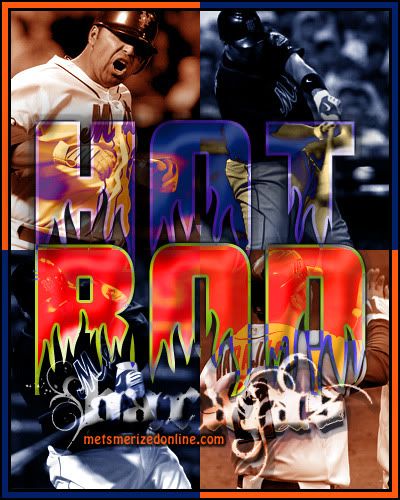 Regardless if you are the type of fan who votes for all the Mets players straight down the line, or one like me who votes for those who are most deserving, but gives any Mets player the benefit of the doubt on close calls, I think we can all agree that Rod Barajas certainly merits the starting nod for this year's National League All Star team..
It's time to start stuffing the ballot box… You can vote for Rod Barajas up to 25 times by casting your vote here for the 2010 All-Star Team.
Let's get Rod Barajas to rep the Mets in Houston this July!