Mike Pelfrey blanked the Phillies for seven innings and Jose Reyes had another big game as the Mets win 3-0 and pulled off a stunning three-game sweep, shutting out the Phillies in all three games. Wow!
Game Summary
Mike Pelfrey pitched another beauty, and even though he didn't have his best stuff, he got the groundball or the strikeout whenever he absolutely needed it. It was just another indication of how much Pelfrey has matured and finally is the big game pitcher the Mets expected when they drafted him in the first round . Tonight he pitched seven scoreless innings and believe it or not, he now improves his record to 7-1 with a 2.54 ERA. Amazin!
Jose Reyes is back! Tonight he continued his hot hitting with three more hits, including a clutch two-run double and a run scored. He was a part of all the scoring in the game, and has really found his groove in this home stand. It's no coincidence that the Mets suddenly started wining again after Reyes returned to his All Star form, doing it all at the plate, on the basepaths and flashing the leather with some dazzling plays in the field. It was his fifth straight multi-hit game.
Pedro Feliciano pitched a scoreless eighth inning and Frankie Rodriguez picked up the save with a 1-2-3 ninth inning, striking out Jayson Werth to end the game. It was K-Rod's ninth save of the season.  
Mets center fielder Angel Pagan made an amazing diving catch to rob Carlos Ruiz of a line drive base hit in the seventh inning. It was a thing of beauty. Angel also had two more hits and is now batting .296 this season. How big has Pagan been filling in for the injured Carlos Beltran?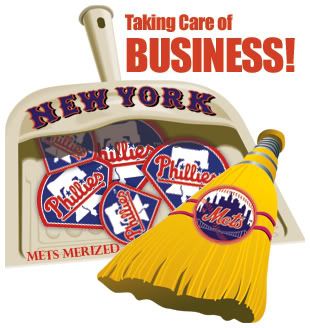 The Mets absolutely OWNED the Phillies and not only did they sweep the three-game series, but they held the Phillies scoreless for all 27 innings of the series! Go home and get your shine box! 
With tonight's win, the Mets extend their winning streak to five games and complete a 5-1 home stand against two of the premier offensive teams in baseball.
The last time the Mets shut out the Phillies in a three game sweep was in 1969 when Tom Seaver, Jerry Koosman and Gary Gentry performed the feat. The Mets threw back-to-back-to-back shutouts for the first time since 1988 when Ron Darling, Dwight Gooden and Bobby Ojeda turned the trick.
Game Ball
In the words of Jerry Manuel, No question… No question… It goes to Big Mike Pelfrey. 
Up Next
Get ready for a treat tomorrow night as the Mets begin a weekend series with the Brewers. Johan Santana goes against one of the games rising stars, Yovani Gallardo. Should be a great game. Tune in at 8:10 PM.
What else can I say, but thanks to the Mets for some outstanding baseball of late. LGM