I hate off days… Especially when we're on a seven game winning streak! So on this slow Mets news day, I dug around and came across a cool post I wrote not too long ago that seems very appropriate today. This post was originally published in February, back when the Mets were the laughing stock of baseball. Back then, I wanted to let everyone know why I believed the Mets had what it takes to create some magic this season. Check it out…
Original Post: February 13, 2010
It was only a year ago that many sports journalists picked the Mets as favorites to win the World Series.
The same journalists and sportscasters who saw a rotation of Johan Santana, Mike Pelfrey, Oliver Perez and John Maine as championship caliber, now rail against them and repeatedly put them down.
The same journalists and sportscaters who were gushing over an outfield of Murphy, Beltran and Church, now mocks them despite the obvious upgrades with additions of Jason Bay and Jeff Francouer. (Yes, they are upgrades regardless of what some saber-heads say!)
The only thing that went wrong last season was the loss of the games top leadoff hitter, the games top center fielder, one of the league's most feared sluggers, three-fifths of the starting rotation, and several relievers including our newly acquired setup man who would have been a closer for more than half of the teams in the league. The losses were unprecedented and the Mets set a new Major League record for days lost to the disabled list.
We were forced to ravage our minor leagues and bring up players who were ill-prepared or simply not ready… YET. 
Did we have problems with fundamentals despite all the injuries? We sure did, but they only became more magnified because over 60% of our opening day payroll spent time on the disabled list.
In 2006 we had those same problems with fundamentals and yet we came within one out of the World Series. And that was before we added Johan Santana, Frankie Rodriguez, Jeff Francoeur and now Jason Bay.
If we stay healthy, and I know that's a big if, we can do this season, what everyone thought we would do last season. We can win the division and challenge for the 2010 World Series.
The more I hear the phrase "We Believe In Comebacks", the more it begins to make sense to me. I do belive in comebacks, and I do belive in this Mets team.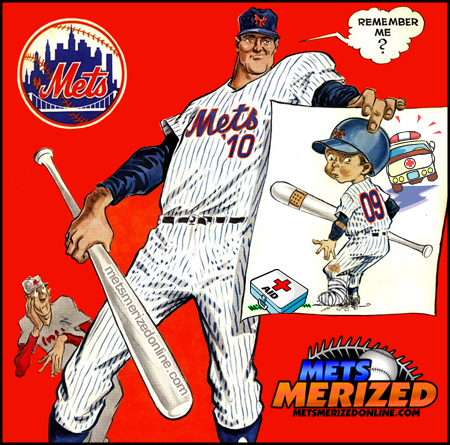 Last season may not have worked out the way that we all imagined it would, but this year will be different. We'll be back healthier and faster and stronger and more focused and determined than ever before.
Ya "still" Gotta Believe!