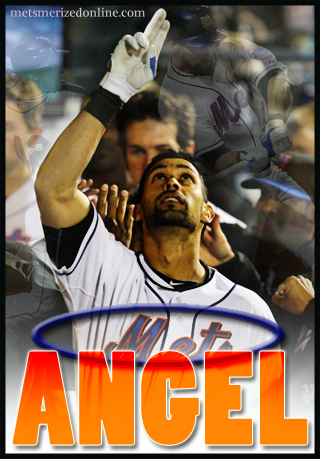 Ike Davis' debut was a memorable one as he picked up the first two hits of his career. Angel Pagan's homer broke the game open and the Mets defeated the Cubs 6-1.
Game Notes
Jon Niese got into a few jams, but time and time again he got out of trouble with a big strikeout whenever he needed one. He pitched a smart game and I was a little miffed to see him taken out of the game in the seventh inning even though he had yet to allow a run in the game. The bottom line is that Jon Niese is really starting to come into his own and he is quickly establishing himself as a key part of this rotation.
The Mets bats finally showed signs of life when they sent nine batters to the plate in the seventh inning and scored five runs. The biggest blow was a two run homer by center fielder Angel Pagan, who blasted one over the wall in left center. The home run ended a 117 at-bat drought in which the Mets hadn't had an extra-base hit. Yikes!
Of course, the biggest storyline to this game, was the long awaited debut of uber-prospect Ike Davis. The young first baseman wasted no time and singled in his first at-bat in the second inning. Davis then stroked another single to drive in a run during the Mets' big rally in the seventh. All in all it was smashing debut for the youngster who finished up 2-4 with his first RBI.  Welcome to the Bigs Ike!
Jason Bay also had two hits including a booming RBI double to drive home David Wright who went 1-3 with a walk in the game. Maybe we'll get to see Jason Bay finally get hot in this homestand. Tonight was a good start.
The Mets bullpen had yet another solid night. Fernando Nieve followed after Niese left with a runner on third base and allowed the runner to score on a single to tie the game at one at the time. Jenrry Mejia pitched the last two scoreless innings, walking two and striking out two.
Great way to open up a big ten game homestand. Lets Go Mets!
Turning Point
Angel Pagan's two run homer in the seventh broke a 1-1 tie and put the Mets up for good.
Game Ball
Jon Niese was fantastic and Angel Pagan was heroic, but the game ball goes to Ike Davis for energizing the team and putting a charge into a fanbase that desperately needed a booster shot.
On Deck
Mike Pelfrey takes his sterling 1.38 ERA and perfect 2-0 record to the mound against the Cubs Carlos Zambrano who is off to a horrendous start. Game time is at 7:10 PM. Be there or be square. LGM