I am trying really hard to focus on Spring Training as we get a chance to see what will eventually develop into our 2010 squad, with a few pluses and minuses. The glutton for punishment that I am, I decided to watch the Mike and Mike simulcast on ESPN 2 this morning to hear them do their "triple play" featuring our Amazins. Guys, please just pretend like we're unbiased and that you will address this team just like any other team. I watched them include the Brewers and the Athletics and there were stark contrasts between those two and how the Mets were received. Heavy sighs, mumbles, head shaking, and murmurs of doom again but especially from ESPN. At least, MLB insider Keith Law stated the Mets have a chance of competing as long as they stay healthy, which is all anyone can ask for.
To be fair, a large market team like this should be able to bring more excitement and buzz and optimism to the table, especially with a top five payroll. Even expert Bobby Valentine stated his beliefs on where the Mets will end up. He felt that the team has a possible chance at the Wild Card at best only if the team is healthy, but the gloom and doom followed quickly after. The consensus seemed to be that the division will be won with 95 games so the Phillies have that locked with their potent offense. The Wild Card is supposedly in play, but the Mets have to win at least 88 games or more, 90 to be exact. They are not amongst the believers that this can be done by our current crew.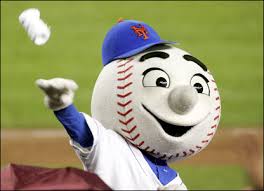 It doesn't surprise me that nobody thinks the Mets can do it. Listening to it regurgitated over and over by the Worldwide Leader is a bit aggravating. It sounds like it's a lock that Atlanta and Florida are going to keep us from moving up in the standings. Josh Johnson and the incumbent Tommy Hanson not withstanding, are they THAT good and are we THAT bad?
I don't buy it. I know we got questions from Pelfrey on down in the rotation, but competent defense, good situational hitting and decent outings (decent is all we need from this crew) from our 2-4 pitchers and we have a seriously competitive ball club! And never discount the upcoming trade deadline for additional pieces. By that time, we will all know what we have and what needs to be adjusted. No doubt in my mind, these Mets can compete.
Don't throw in the towel, Mr. Met… This season is not over yet, Is it? I think true Mets fans know the answer.