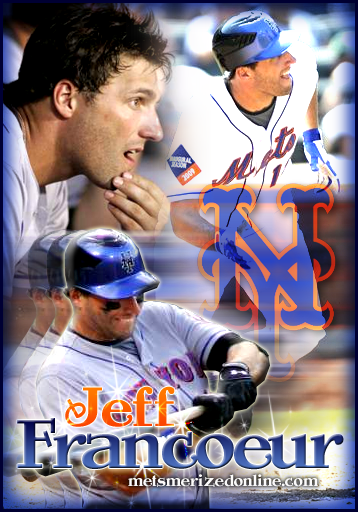 When the Mets traded Ryan Church to the Atlanta Braves for Jeff Francoeur, there was an outcry among Mets fans such as I've never heard before over a trade that I thought was a great one for the Mets. All of a sudden Ryan Church was looked upon as this golden boy, when in fact he hadn't put together a string of six solid games in a row since April of 2008.
At the time of the trade, I lobbied hard for Jeff Francoeur because I saw something in him that we haven't seen since Darryl Strawberry last did it in 1990, almost 20 years ago. A 100 RBI season. It's hard to believe that at a position that most teams have stocked with a slugger, the Mets have suffered through two decades of offensive futility. Not anymore.
In Francoeur, the Mets got themselves a player who already had two 100 RBI seasons before his 24th birthday. Many Mets fans have said that those 100 RBI seasons were now a distant memory and he was washed up. Washed up at 25? I didn't buy it for one minute. What I saw was a young player who tasted success early on, and when pitchers adjusted to him, he failed to adjust to them. It was plain to see. In 2008, Frenchy unsuccessfully tried to fix things his way. In 2009, he was desperately seeking help wherever he could find it, including boarding a plane to meet with another team's hitting instructor. That one move was the beginning of the end his tenure with the Braves, and led to a new opportunity with the Mets. It was a perfect match, although I may have been the only one thinking it at the time.
In last night's win against the Astros, Jeff Francoeur drove in two more runs and now has 14 RBIs in 12 games as a Met. He is batting .327 with a .490 slugging percentage. And yet believe it or not, we have many complaining that he has no walks. Really?
There is a contingency in our fanbase that would prefer to see less hits and more walks. This is why I can never fully commit to all these new statistical measures. Why in the world would I ever care about how many walks my number five hitter has? I could understand if the argument was to distinguish the value of our number one and two hitters. Those hitters get paid to get on base by hook or by crook. But here we have a bona fide slugger whocan drive in runs, and yet so many would prefer to take the bat right out of his hands. <shaking my head in disbelief>
This is a Mets team that is struggling to score runs. They needed a hitter in the middle of the lineup who could drive some runs home, and in Francoeur they got just what they needed. Church had his 2.5 minutes of fame with the Mets, but he was not a leader or a clutch hitter or a power hitter. He was a square peg in a round hole. I knew it, Jerry Manuel knew it, Omar Minaya knew it.
The last thing this team needed was Ryan Church walking with a runner on second base instead of driving him home. Good riddance to him and his walks. By the way, he's batting .200 with the Braves, but fear not, he has plenty of walks. You can keep the walks, I'll take the RBI's instead.
After the game last night, Mets manager Jerry Manuel said that Jeff Francoeur has energized a number of players on this team that were in need of some recharging, including David Wright.
He said that the clubhouse has had a new positive energy and a completely different dynamic since Francoeur's arrival.
"That young man knows how to compete. He knows how to win and he hates to lose."
Those are just a couple of those immeasurable intangibles that you'll always see me blogging about. 
Francoeur has helped revive a team that was pronounced dead at the All Star break. This weekend alone, he had seven RBIs in the three-game series against the Astros. Gary Cohen asked,
"When's the last time any Met did that?"
When asked to comment about the series yesterday, Francoeur opted to talk about the Mets post season chances instead…
"The last two games, we've played great ball. It's big momentum for us coming home. We got a shot. We've got 65 games left, and I guarantee you every person on this team will fight their butts off to the end."
It sounds a lot like something Tug McGraw or Keith Hernandez would say when they once roamed the Mets clubhouse.
I am so glad that Francoeur's 100 RBI bat is now an integral part of our lineup. And if we do manage to win a wild card this season, you can be sure that it never would have happened without Francoeur.
If we do in fact make the post season, the Jeff Francoeur trade will be known as the turning point in the Mets season. In fact, I believe it already is.
Lead the way Frenchy!