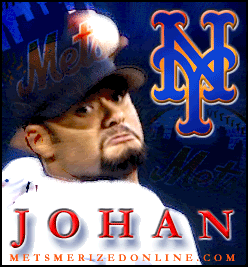 The day after this brilliant trade by Omar was announced, we want to know what everyone is saying. It's understandable that some people are leery until the deal is sealed, but I, for one, am a very proud Mets fan!
Here are some quotes from around the league:
Braves GM Frank Wren – "Johan Santana is one of the best pitchers in the game so clearly you hope that a pitcher like that doesn't end up in your division with a division rival. But we feel like we've improved our club as well this year and I think it's going to be a very good division race."

Billy Wagner – "I think the Phillies are still ahead of us. I think their offense and what they're capable of doing – their whole organization right now has gotten a lot better and they've gotten a little taste of what playoff baseball is. They've got two MVPs. They've got a serious threat in their bullpen with Brad Lidge. They're putting Brett Myers back into the rotation. I honestly think it's really tight at the top. I'm not going to put us ahead of them because we don't deserve to be there until we achieve something."

David Wright – "We're going to welcome him with open arms. When I think of an ace, I think of a guy who can get you a win every five days. There's only a handful of those guys out there – there's not many – and Johan is one of those guys. You know that every fifth day he's going to eat up innings, he's going to win. And to have one of those handful that I'd consider an ace is obviously pretty special."

Philadelphia Inquirer – "The sound that came out of the executive offices at Citizens Bank Park was something closer to a deflating groan. The old "You sank my battleship!" commercial comes to mind here. One day after feeling pretty good about upgrading their third-base position with the signing of Pedro Feliz, the Phils were completely one-upped by their closest National League East rival. The Mets added baseball's most precious commodity – a true No. 1 ace – while giving up nothing that figured to significantly impact their 2008 roster … So now, Johan Santana is headed to Queens. He will make the Mets better – and the Phillies' quest for back-to-back NL East titles a little more difficult."
Let the critics talk but one thing's for certain, once this deal goes through, they will have to find something else to complain about because the Mets will finally have a pair of aces and a rotation to be proud of! Is it spring yet?