Joe D
I'm a lifelong Mets fan who loves writing and talking about the Amazins' 24/7. From the Miracle in 1969 to the magic of 1986, and even the near misses in '73 and '00, I've experienced it all - the highs and the lows. I started Mets Merized Online in 2005 to feed my addiction and interact with other passionate Met fans like you. Follow me on Twitter @metsmerized.
Joe D's Latest Posts
In a word, no. Andy Martino of the Daily News wrote that a team source indicated that Willie Harris and Scott Hairston will not be re-signed until much later in the off-season, if they are re-signed at all. Martino adds that Harris became a clubhouse leader and one of manager Terry Collins' favorites and that a return is likely. I read stuff […]
Jose Reyes, Scott Hairston, Willie Harris, Chris Young, Chris Capuano, Miguel Batista and Jason Isringhausen were among the 148 players who filed for free agency today. The Daily News reported on Friday, that the Mets will not re-sign Reyes during their exclusive negotiating window which expires on Thursday, November 3rd. Instead they intend to let other teams set the market for the NL Batting […]
As expected, the Milwaukee Brewers declined the $17.5 million mutual option on former Mets closer Francisco Rodriguez. K-Rod's deal was reworked shortly after he was traded from the Mets during the All-Star break, changing it from an option that would have become guaranteed had he finished 55 games to a mutual option. Rodriguez was used primarily as […]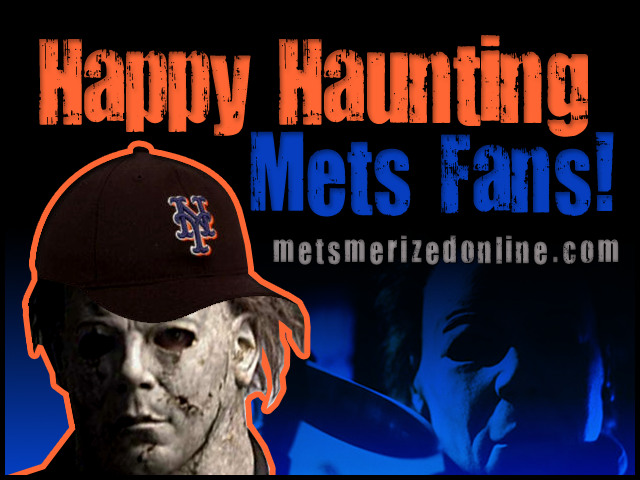 I just wanted to wish everyone a Happy Halloween from all of us at Mets Merized Online!
On Saturday, John Volpe submitted a Fan Post in which he points to the similarities between when the Mets traded Tom Seaver (Midnight Massacre) and the current Jose Reyes situation. He included a quote from Tom Seaver and wrote: Even the great one, Tom Seaver himself, shared his thoughts on Reyes not to long ago. "Unless […]
Buster Olney of ESPN.com reported that the Tampa Bay Rays will "probably" trade B.J. Upton over the offseason. The Rays came close to dealing their center fielder to the Washington Nationals prior to the trade deadline, but weren't able to agree on the pieces before time ran out. Upton made $4.825 million in 2011 and is due for […]
FREE SHIPPING IN OUR MMO T-SHIRT SHOP! Sunday is the last day to get FREE SHIPPING on all our T-Shirts. Just use coupon code WITCHINGHOUR when checking out. Look at just some of our awesome designs…          Over a dozen other cool designs available! Grab a couple for yourself or they […]