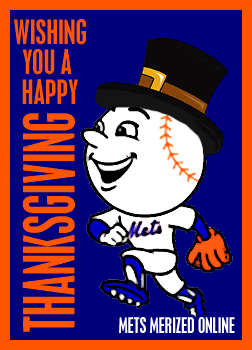 On behalf of everyone at Mets Merized Online, we would like to thank all of our Amazin' readers for all their support over the years. 2013 was another record-breaking year for us and it's all because of YOU. Almost 22,000 die-hard Met Fans check into MMO everyday and we appreciate every one of you.
It's always such an enormous pleasure to share our opinions and interact with the best baseball fans in the world – Mets Fans. Our passion for the Mets binds all of us together, and though we may not all agree on how to get there, we all share one common goal, and that is to see the Mets win another World Series… Or two… Or four…
It's been an honor to serve you all these nine years. I never expected that when I posted my first thoughts on March 5, 2005 from a hospital bed at the Brooklyn VA, that we would become the incredible community that we are today. It's been quite a journey and I've loved every second of it. I'm very humbled by it all.
Let me also say thank you to the 100+ Mets fans who have contributed their writing talents to this site over all these years. Obviously, we wouldn't be the #1 Independent Mets Fan Site if not for their undying passion for the team and their incomparable writing talents. All of them have helped MMO provide the balance of opinion that reflect the richness and diversity of the most engaged fan base in baseball.
Finally, let's also be thankful for all of the brave men and women who continue to serve our country and defend our American way of life. Many of those who have served or are still serving send their greetings to me every week. Some of them you've read and heard about through our MMO Fan Shots. Our thoughts are always with them, and we honor their incredible courage and commitment to protecting our freedom and values.
From all of us, to all of you… 
Happy Thanksgiving Day!