Starting Lineup
Jordany Valdespin – CF
Daniel Murphy – 2B
David Wright – 3B
Ike Davis – 1B
John Buck – C
Lucas Duda – LF
Mike Baxter – RF
Ruben Tejada – SS
Dillon Gee – RHP
Game Notes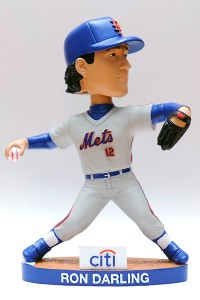 John Buck drove in his 21st run yesterday. Twelve other Mets have finished April with at least 20 RBI, with Jeff Kent holding the franchise record of 26. Buck is tied for the major league lead with 21 RBI with Baltimore's Chris Davis and is also tied for fifth in the
majors with six home runs.
The Mets have scored 97 runs in their first 16 games (6.1 runs per game). The 97 runs are tied for the most the Mets have scored after 16 games in any season. The 2007 Mets scored 97 runs after the first 16 contests of the year. The 97 runs are third-most in the majors behind Colorado (100) and Oakland (99).
David Wright is tied for the major league lead with three triples after collecting his third triple of the year yesterday. The three triples are already tied for the second -most of his career. Wright had a career-high five triples in 2006.
The first 25, 000 fans attending today's game will receive a Ron Darling bobblehead presented by Citi. Darling's bobblehead is the first in a season-long promotion highlighting iconic Mets All-Stars.
Game Preview
The Mets and Nationals find themselves in a rubber game this afternoon as the Mets look to rebound from yesterday's 7-6 loss. After a phenomenal start on Friday, the Mets pitching could not repeat which put the Mets offense in a tight position.Gee looks to get back on the right track today as he takes on Jordan Zimmermann.
Gee is 0-3 this season in as many starts with a 8.36 ERA over 14 innings of work. Looking closer at his stats, he started off with a 6.1 inning performance where he allowed one run, followed by 7 ER over 3 innings and then 5 ER in 4.2 innings. In one start against the Nationals last year, he allowed 4 runs, 3 earned over 8 hits in a 5.1 inning start. The Nationals have the following numbers against Gee:
Werth 5-15, 2B
Desmond 4-15, 2 HR
Espinosa 1-11
LaRoche 0-6
Suzuki 0-2
The Mets bats get to rip apart Jordarn Zimmermann today who is 3-0 this season with a 2.45 ERA over 22.0 innings. Last year he was very good against the Mets with a 1-0 record over 4 games and 23.0 innings with the Mets where he posted a 1.96 ERA. The Mets have the following numbers against Jordan:
Wright 9-27, 2 2B, 2 HR
Murphy 7-21, 2 2B, HR
Davis 3-13, 2B, HR
Tejada 5-13,
Buck 3 -11, 2 2B
Duda 2-11, 2B
Valdespin 1-4, HR
Let's Go Mets!
Check 213 Miles From Shea!