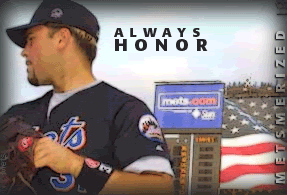 This is the Week of Memories for most of us.
The week that the world fell apart, and couldn't be put back together again. So many Mommies' and Daddys' who left children through no fault of their own. Many of these children now carry or wear items that were their Mom's or Dad's making a memory for themselves – they were too young to remember.
Ten days after planes were crashed into the Twin Towers of the World Trade Center in lower Manhattan killing more than 3,000 people.
Former Mets closer, John Franco, will throw out the ceremonial first pitch to Mike Piazza during the September 11 Remembrance Ceremony at 7:30 PM, before the Mets host the Chicago Cubs at Citi Field.
Both players were instrumental in the club's relief efforts after that tragic day. The Mets turned the Shea Stadium parking lot into a recovery and staging area after the attacks. Players and coaches helped unload and pack supplies that were going to those displaced by the destruction and rescue workers at Ground Zero.
Franco was joined on a conference call yesterday by Bobby Valentine, Robin Ventura and Todd Zeile to discuss the plans and remember……Liza Minnelli sang "New York, New York" during the seventh inning stretch…..and then Mike hit that uplifting go ahead home run….
"That was the feeling we had about New York" Todd Zeile said "There was a unity there that was unlike anything we had ever seen."
Mets players will pay tribute to New York City's uniformed service men and women by wearing caps representing their organizations following the tradition started by the 2001 team.
The Mets and members of the Mets Alumni Association Presented by Citi will continue the outreach efforts started by the club 10 years ago by visiting local firehouses on Friday, September 9.