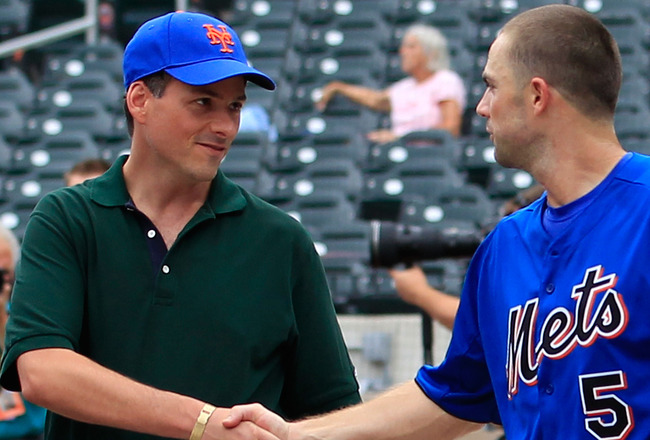 With the minority stake of the team to David Einhorn deal now dead in the water, the much-needed influx of cash that the Mets needed is dead with it. So what exactly does that mean for the team this winter and beyond?
Well it has been said that the Mets will continue to look for minority investors through this year and into the near future. However the idea of one coming relatively soon is about as likely as Jason Bay hitting 20 homeruns as a Met.
So with the Mets strapped for cash, whether it is tied up in terrible contracts or just not there, Sandy Alderson stated that the Mets won't be able to spend much money this winter. That could mean the end for the Jose Reyes' time manning shortstop in Queens, which could honestly be the breaking point for many fans out there. What about any other big time free agent such as Prince Fielder, Albert Pujols, et al? If they can't sign Reyes you think they can afford one of those guys? Lets face it, expect to see a lot of contracts like Chris Young's and Chris Capuano's. One year, incentive based contracts to players trying to prove they still have something left.
Also expect any contracts that have a decent amount of time and or money to be shed. Hopefully Jason Bay will be in that discussion, but what team would want him at this time? David Wright's name has been circling around in possible trades before next season, so with today's news looks like Daniel Murphy will be the teams starting third baseman next year.
It's hard to believe that it has come to this. A New York team not being able to spend money and when it has the chance to get a deal done with someone who is willing to or actually has some, it can't get done. Truth is, that with the Einhorn deal dead, the Mets chances of relevance over the next few years may be as well.