The arrival of Sandy Alderson has stirred up many heated debates on the legacy of Omar Minaya. There are those who blame the former GM for everything that went wrong including that wicked Wainwright curveball. Then there's the other side who lay the blame on all the ill-fated injuries or just plain old bad luck. The truth is probably somewhere in between. But I will caution the haters (you know who you are) that Minaya's legacy has yet to be etched in stone.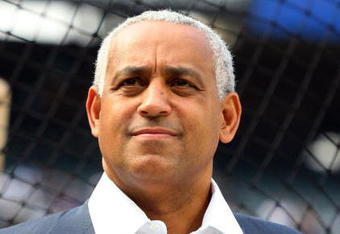 For years we've all heard the accolades about how Omar Minaya had a knack for spotting talent, and during his tenure as GM we've seen him draft some diamonds in the rough in Ike Davis, Bobby Parnell and Jon Niese. But Minaya also rolled the dice on many players off the scrap heap that were cheap and have given the team some bang for the buck like R.A. Dickey as a recent example, and Fernando Tatis and Jose Valentin before him. Minaya's biggest problem may have been keeping some of these players long past their shelf life, but in their first years they were solid contributors.
The fact of the matter is that Omar Minaya's best players have yet to make their debut in the majors and most of them have spent the majority of the last few years developing in the lower minors. Some of those players are only now making baseball people take notice.
Two such players are pitchers Matt Harvey who was the Mets top draft pick in 2010, and the other is Jeurys Familia who Minaya signed as an International free agent. While RHP Zack Wheeler instantly became the Mets No. 1 ranked prospect as soon as he switched uniforms, there's an excellent chance that both Harvey and Familia could make their way to Flushing long before Mr. Wheeler who has yet to find the strike-zone with any consistency.
Harvey and Familia have already moved past Single-A and are now at Class-AA Binghamton, where Wally Backman has been wowed by them according to two reports in the Daily News and Newsday.
"They're pretty much electric. They both have mid-90s fastballs – Familia has a little more velocity. They both have those great curveballs, and they're both working on their changeups. Harvey could have won in the big leagues the way he pitched in his last start. It's just a matter of becoming more consistent. They can both be quality starters on a championship-caliber club."
While discussing Matt Harvey's last start, Backman added, "He got 16 swings at curveballs in his last start and not one of them even made contact. I know it's Double-A, but this kid has a big-league, swing-and-miss curveball. Bryce Harper is the real thing, believe me, but Harvey made him look so bad with that curveball. He struck him out twice with it, and honest to God, the guy swung over one of them by at least a foot."
A scout from another team agreed with Backman's assessment and said, "You can see the potential in both of those guys. They're legit."
Harvey and Familia are just the tip of the iceberg. That barren farm system Minaya inherited and was ranked 29th by Baseball America at the end of 2004, is no longer barren and ranks anywhere between #14 and #16 depending on who you listen to. Over 85% of the Mets minor leagues is comprised of players that were drafted or acquired by Omar Minaya. Some of the name you need to know include outfielders Matt Den Dekker, Cesar Puello, Cory Vaughn and Kirk Nieuwenhuis. Infielders include Ruben Tejada, Reese Havens and Jordany Valdespin. In addition to Harvey and Familia, be on the lookout for Darin Gorski, Juan Urbina and Armando Rodriguez among others.
I became disappointed with Omar Minaya as a GM, mostly for his lack of communication and organizational skills. But I never doubted his penchant for evaluating players and finding talent. As far as that goes, his record speaks volumes.
It will be 4-6 years before we will really know Omar Minaya's legacy. It's too bad that some have already decided that his impact on the Mets ended when he got fired. Nothing could be further from the truth, and any success this team has had this season, is widely a result of his players, his depth, and his minor league call-ups.
This Fan Post was submitted by Met Maniac.